PRITIKIN'S ROAST TURKEY MARINADE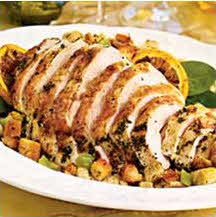 Surrounded by fresh herbs and roasted veggies, your turkey breast is sure to be succulent and flavor-rich, but very low in calories and fat – only about 120 calories and 1 gram of fat per three-ounce serving. The perfect Thanksgiving celebration for both taste buds and heart!
INGREDIENTS
Marinade For Turkey (for 6-8 lbs turkey breast)
• 1 cup red wine
• 2 Tablespoons paprika
• 2 white onions, chopped
• 2 cups fresh orange juice
• ¼ cup fresh grapefruit juice
• 1 cup water
• 2 stalks celery, chopped
• 2 Tablespoons chopped garlic
• 2 bay leaves
• 1 Tablespoon salt-free lemon pepper
• 1 Tablespoon dried oregano
• 1 Tablespoon chopped fresh thyme leaves
• 1 Tablespoon minced fresh rosemary
• 1 Tablespoon chopped fresh sage leaves
Mirepoix (the French name for a combination of vegetables):
• 3 carrots, chopped into large pieces
• 4 white or yellow onions, chopped into large pieces
• 1 head of celery, chopped into large pieces

DIRECTIONS
In a food processor, combine all turkey marinade ingredients and puree.

Use mixture to marinate turkey breasts for at least 1 hour.

Remove turkey breasts from marinade and drain. In a large nonstick skillet on high heat, sear breasts on both sides until golden brown, about 2 minutes per side.

In a large roasting pan, place mirepoix. Place turkey breasts on top. Cover with aluminum foil and bake at 275° for 2½ hours.

Remove cover and bake at 375° until done. (For nicely moist turkey breasts, a meat thermometer should register no more than 175°)

Save drippings from pan to make gravy.

Recipe and photo courtesy of Chef Anthony and the Pritikin Kitchen www.pritikin.com