JÄGERMEISTER ROASTED TURKEY WITH FRESH HERBS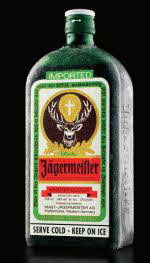 The 56 different natural ingredients found in Jägermeister, including select herbs, blossoms, roots and fruits, adds subtle flavor to roasted turkey gravy.
Serves 12, without leftover.
Ingredients
• 1 Fresh Turkey 13-15 lbs.
• 1 sweet onion cut in quarter
• 1 carrot peeled and chopped
• 1 branch of celery chopped
• A bouquet of sage, parsley and marjoram
• Salt and pepper
• 6 Tbsp unsalted butter
• 1 Tbsp minced lemon zest
• ¼ cup Jägermeister
• 2 carrots peeled and chopped
• ½ sweet onion chopped
• ¼ cup cornstarch stir in ¼ cup water
• 2 cups chicken stock
• ½ cup Jägermeister
• Salt and pepper to taste
• Fresh sage for garnish

Directions
1. Preheat oven to 325°F.

2. Rinse the turkey inside and out and pat dry with a paper towel. Place the onion, carrot, celery, herbs in the turkey and season inside and outside the poultry. Truss the turkey or tie the legs with kitchen string. Place breast side up on a rack in a roasting pan. Spread 2 tablespoons of the butter over the breast. In a small pan over low heat, melt the remaining butter; stir in the lemon zest, ¼ cup of water and ¼ cup of Jägermeister.

3. Roast the turkey, basting with Jägermeister butter mixture every 20 minutes, until pan drippings have accumulated, then baste with the drippings. After 1½ hours, add the chopped carrots, onion to the pan and continue to roast, basting every 30 minutes. If the breast begins to over brown, cover loosely with aluminum foil. Roast until the thermometer inserted into the thickest part of the thigh away from the bone registers 175°F, 2½ -3 hours total.

4. Transfer the turkey to a cutting board, cover with foil and let rest for 30 minutes before carving.

5. Skim off the fat and juices of the pan, leaving the vegetables. Set the pan over medium heat and scrape up any brown bits. Pour 1 cup of chicken stock and stir for 3 minutes. Add the corn starch mixture and the remaining chicken stock; stir until thickened. Pour Jägermeister into the pan and simmer for 1 minute. Strain the Jägermeister Gravy.

6. Snip the string, carve the turkey and arrange on a warmed platter. Serve with Jägermeister gravy.
Recipe courtesy of Sidney Frank Importing Co., Inc.