A SMOKIN' THANKSGIVING BIRD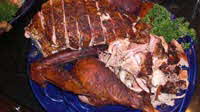 A flavorful brine and slow cook over natural wood make this a sure fire hit.
INGREDIENTS
Brine ingredients:
· 1 gallon vegetable broth
· 3/4 cup kosher salt
· 1/4 cup brown sugar
· 4 tbsp your favorite barbecue dry rub seasoning

Additional ingredients:
· 12-14 pound turkey
· 1 cup yellow mustard
· 1 cup barbecue dry rub seasoning

DIRECTIONS
Heat all ingredients over medium heat until dissolved and well blended. Cool in fridge until ready to use. In a large stock pot, place the raw 12-14 pound turkey inside and cover with brine. Let soak in the fridge overnight, 8-12 hours.

Remove turkey, pat dry thoroughly. Rub turkey skin well with plain yellow mustard then coat well with Dizzy Pig Swamp Venom Rub or any of your favorite barbecue rub. Allow to rest while preparing the smoker*.

Heat smoker with lump charcoal and 2-3 fist sized pecan wood chunks or favorite fuel to approximately 350° F. Add turkey and cook until internal temperature in thickest part of the turkey reaches a minimum temperature of 165° F (approximately 2.5 hours). Remove and rest for approximately 30 minutes before carving.
* Note: A charcoal grill can be substituted for a smoker by placing coals and wood chunks on either side of the grill, leaving the center cool. Coals can also be separated by a disposable aluminum pan filled partially with water and/or fruit juice, adding additional moisture to the cooker.
(courtesy of Smoke In Da Eye competition BBQ team - SmokeInDaEye.com )