SIMPLE HOMEMADE APPLE HERB TURKEY GRAVY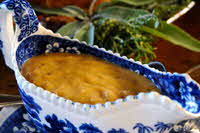 This gravy develops a rich flavor and color from caramelized onions and a natural roasted turkey stock.
Why Try? The combination of caramelized onion with apple cider and Calvados adds a hint of sweetness and complexity.
Foodie Byte: This gravy is made in two simple steps with the first step – the base – being made a day ahead of serving.
Serves: 8
INGREDIENTS
Gravy Base
• ½ pound (2 sticks) butter, unsalted
• 3 cups (3-4 onions) yellow onion, chopped
• 1/3 cup all purpose flour
• 1 quart roasted turkey stock or chicken stock

To finish gravy for the meal
• 1 teaspoon sage leaf, fresh (optional)
• 3/4 teaspoon thyme, fresh (optional)
• 2 tablespoons heavy cream (optional)
• 1/4 cup apple cider
• 1 tablespoon Calvados apple brandy (optional)
• 2 teaspoons kosher salt
• 1 teaspoon black pepper, freshly ground

PREPARATION
Gravy Base
1. In a large heavy sauté pan, melt butter and sauté onions on medium heat, stirring frequently for about 15 to 20 minutes until onions are caramelized to a rich golden brown. The butter will foam as the water content of the butter and onions boils off.

2. Sprinkle flour over the onions and mix to blend and cook for an additional 4 to 5 minutes.

3. Add hot turkey stock whisking constantly to avoid lumping. Cook for 5 to 6 minutes to thicken.

4. At this point the gravy 'base' can be chilled quickly and refrigerated for a day or two.
To Finish the Gravy
5. Reheat gravy base. If desired, add fresh herbs and cream.

6. If you have the opportunity to use additional turkey drippings from the roasting pan, remove the turkey and hold covered in a warm place. Pour or spoon off excess fat. Add enough chicken stock or water to cover the bottom of the pan. Place pan with drippings and stock over a medium to high burner and reduce the liquid to ¼ or less.

7. Add apple cider and Calvados to roasting pan and stir to deglaze the nicely browned turkey fond on the bottom and sides of the pan. With a rubber spatula, scrape all of the deglazed pan drippings through a strainer into the gravy base. (If there is no opportunity to deglaze drippings from a pan, add the Calvados and cider to the gravy base, cook for 8 to 10 minutes and continue to step #8)

8. Season with ½ of the salt and pepper, simmer and stir for 2 to 3 minutes. Taste and adjust with additional salt and pepper if needed.
Recipe & Photo courtesy of the FoodChannel.com