ITALIAN PORK ROAST WITH ROASTED POTATO WEDGES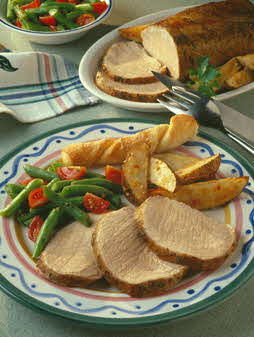 Serves 6

Ingredients
• 2 pound boneless pork loin roast
• 3 tablespoons Italian seasoning
• 4 medium potatoes, cut into wedges
• 1/4 cup Italian salad dressing

Cooking Directions
Rub Italian seasoning over the surfaces of the roast.

Place roast in shallow pan and roast in 350 degrees F. oven for 25 minutes.

Place potato wedges and Italian dressing in plastic bag and toss to evenly coat wedges.

Add potato wedges to roast and return to oven for 20-30 minutes, or until internal temperture of roast reaches 155-160 degrees F. and potatoes are tender.

Remove from oven and let roast rest for 5-10 minutes before slicing.
Serving Suggestions
Have the younger cooks help with seasoning the potatoes. Serve with green beans and breadsticks and dessert of Mocha Cappuccino Pie.
Any leftover roast can be used to make into Pizza Pork Hoagies: Thinly slice leftover Italian Pork Roast. Place on sandwich buns and put on cookie sheet. Top with a spoonful of pizza sauce and shredded mozzarella cheese. Bake in a 350 degrees F. oven for 5 minutes or until cheese melts and bun is lightly toasted.

Nutrition Facts
Calories 340 calories; Protein 34 grams; Fat 11 grams; Sodium 160 milligrams; Cholesterol 95 milligrams; Saturated Fat 3 grams; Carbohydrates 23 grams; Fiber 3 grams
Recipe and photo courtesy of National Pork Board. For more information about The Other White Meat, visit TheOtherWhiteMeat.com