BONELESS PORK LOIN ROAST WITH HERBED PEPPER RUB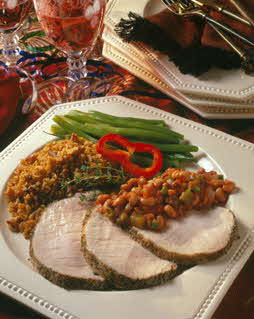 Serves 6-8, with leftovers.
Ingredients
• One 3-pound boneless pork loin roast

Herbed Pepper Rub:
• 2 tablespoons cracked black pepper
• 2 tablespoons grated Parmesan cheese
• 2 teaspoons dried basil
• 2 teaspoons dried rosemary
• 2 teaspoons dried thyme
• 1/4 teaspoon garlic powder
• 1/4 teaspoon salt

Cooking Directions
Pat pork dry with paper towel.

In small bowl, combine all rub ingredients well and apply to all surfaces of the pork roast.

Place roast in a shallow pan and roast in a 350 degrees F. oven for 1-1¼ hours (18-20 minutes per pound), until internal temperature, measured with a meat thermometer, registers 155 degrees F.

Remove roast from oven and let rest for 5-10 minutes before slicing to serve.

Serving Suggestions
Serve this as part of a casual New Year's Eve celebration buffet. Partner with Black-eyed Pea Salsa (condiment category), Mashed Sweet Potato Casserole (sides category), green beans and cornbread.

Recipe and photo courtesy of National Pork Board. For more information about The Other White Meat, visit TheOtherWhiteMeat.com