HARVEST PORK ROAST WITH VEGETABLES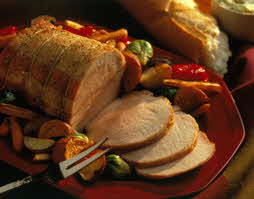 Serves 6 to 8.

Ingredients
• 1 (3-pound) pork loin roast
• 1 (0.7 ounce) package dry Italian salad dressing mix
• 1½ teaspoon ground cumin
• 1½ teaspoon dried oregano leaves
• 8 cups favorite fall vegetables (i.e. potaotes, carrots, sweet potatoes, yams, parsnips, onions, mushrooms, bell peppers) cut into 1½-inch chunks

Cooking Directions
Heat oven to 350 degrees F. Place pork in shallow roasting pan.

Blend Italian salad dressing mix, cumin and oregano in small bowl.

Sprinkle half of seasoning mixture over pork; cook uncovered for 1 to 1½ hours or until meat thermometer shows the internal temperature has reached 155 degrees F.

While pork is cooking, coat a separate baking dish with vegetable cooking spray and add vegetables.
Sprinkle remaining seasoning over vegetables.
Cover and roast in oven for 30 minutes.
Remove cover, stir and continue roasting 15 to 30 minutes until vegetables are tender.

When pork reaches 155 degrees F. internal temperature, remove from oven and allow to rest 10 minutes.

Slice and serve with vegetables.
Serving Suggestions
Mediterranean flavors and fall harvest vegetables complement this succulent pork roast. This tasty dish is a cinch to prepare and is sure to satisfy any appetite. Younger kids can help by setting the table and older kids can wash and chop your family's favorite veggies. Top crusty bread slices with herbed butter or honey to complete the meal.

Nutrition Facts
Calories 200 calories; Protein 12 grams; Fat 5 grams; Sodium 65 milligrams; Cholesterol 30 milligrams; Saturated Fat 1 grams; Carbohydrates 27 grams
Recipe and photo courtesy of National Pork Board. For more information about The Other White Meat, visit TheOtherWhiteMeat.com