QUICK-CURED PORK LOIN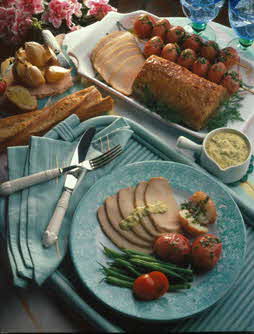 Serves 8.

• 3 pound natural boneless pork loin roast*
• 1/4 cup vegetable oil
• 3 cloves garlic, minced
• 2 tablespoons coarse salt

Cooking Directions
Place roast in large (2-gallon) self-sealing bag.

Add oil, garlic and salt, and rub over pork, coating roast well.

Seal bag and refrigerate 2-24 hours.

Remove pork from marinade (discard any remaining marinade) and place on grill.

Lower grill hood and grill for 1 to 1¼ hours, until internal temperature is 155 degrees F.

Remove to serving platter and let stand 10 minutes.

Serve sliced with Mustard-Dill Sauce.

Serving Suggestions
This quick recipe requires little work and yields lots of flavor. A great way to try basic brining. You'll have the best results when you use pork that is labeled *"natural." Serve with steamed green beans with cherry tomatoes and warm dinner rolls.

Nutrition Facts
Calories 270 calories; Protein 37 grams; Fat 12 grams; Sodium 950 milligrams; Cholesterol 95 milligrams; Saturated Fat 3 grams; Carbohydrates 0 grams
Recipe and photo courtesy of National Pork Board. For more information about The Other White Meat, visit TheOtherWhiteMeat.com