GARLIC-HERB ROAST PORK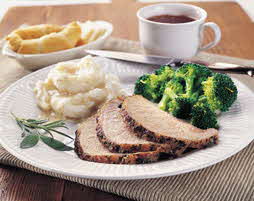 Serves 5, with possible leftovers.

Ingredients
• 1½ - 2 pounds boneless center-cut pork loin
• 4 cloves garlic, peeled and crushed
• 2 teaspoons coarse salt
• 1 tablespoon minced fresh sage or 2 teaspoons dried
• 2 teaspoons minced fresh rosemary leaves or 1 teaspoon dried
• 3/4 teaspoon freshly ground black pepper
• 1 tablespoon olive oil

Cooking Directions
Heat oven to 450 degrees F. Pat pork dry with paper towels, place in shallow roasting pan.

In small bowl, stir together garlic, salt, sage, rosemary, pepper and olive oil to make a paste.

Rub garlic paste over all surfaces of pork loin; place in oven, roast for 15 minutes.

Turn oven temperature down to 300 degrees F., roast for 15-20 minutes, take internal temperature using an instant-read thermometer.

When internal temperature of roast is 150 degrees F., remove from oven, tent loosely with foil and let rest 10 minutes before slicing to serve.

This recipe was developed by Chef Bruce Aidells, author of The Complete Meat Cookbook. Recipe and photo courtesy of National Pork Board. For more information about The Other White Meat, visit TheOtherWhiteMeat.com