CALIFORNIA FOOD TRIVIA
All dried figs harvested in the United States are grown in California's Central Valley.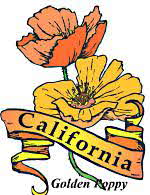 The California Golden Poppy (Eschscholzia Californica) was designated the state flower of California in 1903. Native Americans in California used the poppy as a food source and extracted oil from the plant.
Avocado trees were first planted in Florida in 1833 and in California in 1856. Today, California is the U.S. leading producer of avocados, followed by Florida and Hawaii.
The California Golden Trout (Salmo aqua bonita) was designated as the official state fish of California in 1947.

The California Valley Quail (Lophortyx californica) was designated California's official state bird in 1931.

Approximately 8% of Californians are vegetarians. (2003)
A popular demonstration at the 1922 Los Angeles County Fair was how to make toothpaste from orange by-products.

California passed Wisconsin in 2006 in total cheese production.
California has more breweries in the U.S. than any other state (279 brewing companies in California in 2007).

Florida and California combined account for about 2/3rds of total U.S. tomato production.

Fallbrook, California is the Avocado Capital of the World. More avocados are grown there than any place else in the U.S.
The Iron Door Saloon in Groveland is the oldest saloon in California. It was built in 1852.

The Coachella Valley is known as the Date Capital of the world. California grows 99.5% of all dates grown in the United States, and Arizona produces the rest. (USDA 2004).
Fresno, California is the Raisin Capital of the World.

The California Dancing Raisin was introduced in 1984 by the California Raisin Industry marketing staff to increase awareness and demand for California raisins.

Castroville, California is known as the Artichoke Capital of the World. It is where Norma Jean (Marilyn Monroe) was crowned Artichoke Queen in 1947.
Los Angeles may be considered a city of freeways, but actually it has the lowest number of freeway miles per capita of any American city or urbanized area. That's why its freeways are so crowded.

At the two-day California Strawberry Festival (May) in Oxnard, you can sample strawberries prepared in all sorts of ways. In addition to traditional treats such as strawberry shortcake, strawberry jam, strawberry tarts and strawberries dipped in chocolate, there is strawberry pizza! This dessert pizza is topped with strawberries, sour cream, cream cheese and whipped cream on a sweet bread baked like a pizza. Strawberry kabobs dipped in powdered sugar are another delicacy. And drinks such as a strawberry smoothie can wash it all down.
Strawberries are big business in Oxnard. The annual strawberry revenues are $100 million from Oxnard's bountiful 6,600 berry acres. Twenty-four companies harvest and cool nearly 16 million trays of berries, which are shipped throughout North America as well as to Germany and Japan.
Library of Congress Local Legacies Project

FREE Magazines
and other Publications
An extensive selection of free magazines and other publications
FOOD TRIVIA and FOOD FACTS
Please feel free to link to any pages of FoodReference.com from your website.
For permission to use any of this content please E-mail: [email protected]
All contents are copyright © 1990 - 2023 James T. Ehler and www.FoodReference.com unless otherwise noted.
All rights reserved. You may copy and use portions of this website for non-commercial, personal use only.
Any other use of these materials without prior written authorization is not very nice and violates the copyright.
Please take the time to request permission.
CULINARY SCHOOLS
& COOKING CLASSES
From Amateur & Basic Cooking Classes to Professional Chef Training & Degrees
FoodReference.com (since 1999)
FOOD TRIVIA and FOOD FACTS SECTION