See Also: Article on Prickly Pear
CACTUS FOOD TRIVIA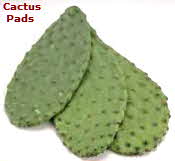 Prickly Pear Cactus or edible cactus is also known as nopales (no-PAH-les), nopalitos or cactus pads. This vegetable is popular in Mexico and other Central American countries, parts of Europe, the Middle East, India, North Africa and Australia. Its popularity is increasing in the United States where it can be found at Mexican grocery stores, specialty produce markets and farmer's markets.
This edible cactus has fleshy oval leaves (typically called pads or paddles) with a soft but crunchy texture that also becomes a bit sticky (not unlike okra) when cooked. Prickly pear cactus tastes similar to a slightly tart green bean, asparagus, or green pepper.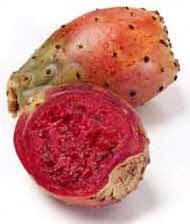 The Saguaro Cactus blossom is the official state flower of Arizona. The white, funnel shaped, night blooming flowers, grow on the trunk and branches of the saguaro cactus during May and June. The red fruits of this largest American cactus are edible.
CULINARY SCHOOLS
& COOKING CLASSES
From Amateur & Basic Cooking Classes to Professional Chef Training & Degrees - Associates, Bachelors & Masters - More than 1,000 schools & classes listed for all 50 States, Online and Worldwide
FOOD TRIVIA and FOOD FACTS
Please feel free to link to any pages of FoodReference.com from your website.
For permission to use any of this content please E-mail: [email protected]
All contents are copyright © 1990 - 2023 James T. Ehler and www.FoodReference.com unless otherwise noted.
All rights reserved. You may copy and use portions of this website for non-commercial, personal use only.
Any other use of these materials without prior written authorization is not very nice and violates the copyright.
Please take the time to request permission.
FoodReference.com (since 1999)
FOOD TRIVIA and FOOD FACTS SECTION