See also: Australian Food Festivals
AUSTRALIA: Food Trivia & Facts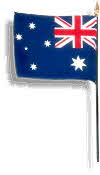 The average consumption of meat pies in Australia is 12 per person per year.
The Carpetbag steak, popular in Australia, but possibly originating in the U.S. in the 19th century. It is a Filet Mignon slit in the middle, stuffed with oysters and then broiled rare.
Lamington is an Australian specialty consisting of a square of sponge cake coated in chocolate and shredded coconut. Frequently served with afternoon tea, it is supposedly named for Lord Lamington, the governor of Queensland from 1895 to 1901.

The Granny Smith Apple is an all-purpose apple with green skin, firm, crisp flesh, and a pleasantly tart flavor. Named after its discoverer Maria (or Mary) Ann Smith (died 1870), an Australian gardener. Smith had found the seedling growing where she had thrown out some apples, she began using the fruit for cooking, and was soon marketing the fruit. It is believed to have originally come from the seed of a French Crab apple.

The Emu is the national bird of Australia.
Macadamia nuts are native to Australia. They are named for John Macadam, a Scotish born physician and chemist who promoted the nuts cultivation in Australia.
A yabby is a freshwater crayfish from Australia. In the wild some varieties can reach 10 pounds, but the farm raised ones found in markets are usually 2oz to 5oz. They are bluish green their meat is very sweet, and there is a fair amount of claw meat in addition to the tail meat. They are being flown in live from Western Australia, and are available in large city markets in the U.S.
There is even a special dry white wine that was created to be served with yabbies, St. Hallett's Poacher's Blend.
Powdered butter was developed in Australia in 1962.
Melba toast was created by Auguste Escoffier in 1897, and supposedly named by Cesar Ritz of the Savoy (or his wife Marie) in honor of Nellie Melba (stage name of Helen Porter Mitchell), an Australian born opera singer. Melba toast is very thin, dry, crisp toast.
Vegemite is a popular spread in Australia and New Zealand. Vegemite is made from a brown yeast extract. It is spread on bread and sandwiches, and used to flavor soups and stews. The flavor is mostly yeast and salt. It is similar to marmite.
In Australia stuffed mutton is called 'Colonial Goose'

Please feel free to link to any pages of FoodReference.com from your website.
For permission to use any of this content please E-mail: [email protected]
All contents are copyright © 1990 - 2023 James T. Ehler and www.FoodReference.com unless otherwise noted.
All rights reserved. You may copy and use portions of this website for non-commercial, personal use only.
Any other use of these materials without prior written authorization is not very nice and violates the copyright.
Please take the time to request permission.
FOOD TRIVIA and FOOD FACTS
CULINARY SCHOOLS
& COOKING CLASSES
From Amateur & Basic Cooking Classes to Professional Chef Training & Degrees
FoodReference.com (since 1999)
FOOD TRIVIA and FOOD FACTS SECTION