ATEMOYA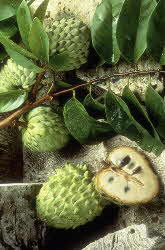 Tropical Fruit - Atemoya
(Annona cherimola x squamosa)
The Atemoya was 'created' in 1907 by U.S. Department of Agriculture employee P. J. Wester as a cross between the Cherimoya (Annona cherimola) and the Sweetsop or Sugar Apple (Annona squasmosa).
Looking somewhat like a strange artichoke, the atemoya has a creamy custard-like pulp and a mango-like flavor with a hint of vanilla.
Manmade hybrid of cherimoya and sugar apple. Harvested in Florida August-October and November-January. Typical size is 32 ounces. Allow to ripen to room temperature until fruit is soft. Flesh is creamy white with a pleasant, sweet flavor. Best eaten fresh or may be refrigerated up to 1-3 days. Very good source of calcium, phosphorus, iron and a good source of vitamin C. Use fresh and in desserts.
Florida Department of Agriculture and Consumer Services
www.florida-agriculture.com

CULINARY SCHOOLS
& COOKING CLASSES
From Amateur & Basic Cooking Classes to Professional Chef Training & Degrees - Associates, Bachelors & Masters - More than 1,000 schools & classes listed for all 50 States, Online and Worldwide
FOOD TRIVIA and FOOD FACTS
Please feel free to link to any pages of FoodReference.com from your website.
For permission to use any of this content please E-mail: [email protected]
All contents are copyright © 1990 - 2023 James T. Ehler and www.FoodReference.com unless otherwise noted.
All rights reserved. You may copy and use portions of this website for non-commercial, personal use only.
Any other use of these materials without prior written authorization is not very nice and violates the copyright.
Please take the time to request permission.
FoodReference.com (since 1999)
FOOD TRIVIA and FOOD FACTS SECTION