See also Articles: Asparagus Article; Herald of Spring
Asparagus Recipes
ASPARAGUS Facts & Trivia

California grows more than 50,000 tons of asparagus each year, which is about 70% of all the asparagus grown in the United States.

According to the USDA, 29,200 Acres of Asparagus were harvested in the United States in 2009.

The small 'scales' at the tip of an asparagus spear are actually the leaves.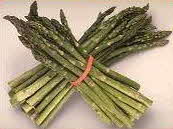 Asparagus (Asparagus officinalis) is a member of the Lily family and is related to onions and garlic. The asparagus spears grow from a crown that is planted about a foot deep in sandy soils. The spears are usually not harvested until the 3rd or 4th year, to allow the crown to develop a strong root system. The plants will then produce spears for about 15 years. Under ideal conditions, an asparagus spear can grow 10" in a 24-hour period. Each crown will send spears up for about 6-7 weeks during the spring and early summer. How often spears may be picked depends on the temperature. Early in the season, spears may be picked every 4 days or so, and later as the average temperature warms up, they may have to be picked every day!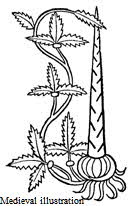 All commercially grown asparagus must still be harvested by hand.

Some individuals have odorous urine after eating asparagus, and it was long thought to be a genetic trait since some people seemed to be immune to this effect. The odor is caused by a asparagusic acid which the body converts into methanethiol (closely related to skunk spray!). It now appears that there are exceptions on both sides of the phenomenon. Due to genetic differences, most but not all people produce methanethiol after eating asparagus, and most but not all people can detect the odor.
Female asparagus stalks are plumper than male stalks.
It is the greener (or whiter) asparagus that are more tender, not the thin ones.

FREE Magazines
and other Publications
An extensive selection of free magazines and other publications
FOOD TRIVIA and FOOD FACTS
Please feel free to link to any pages of FoodReference.com from your website.
For permission to use any of this content please E-mail: [email protected]
All contents are copyright © 1990 - 2023 James T. Ehler and www.FoodReference.com unless otherwise noted.
All rights reserved. You may copy and use portions of this website for non-commercial, personal use only.
Any other use of these materials without prior written authorization is not very nice and violates the copyright.
Please take the time to request permission.
CULINARY SCHOOLS
& COOKING CLASSES
From Amateur & Basic Cooking Classes to Professional Chef Training & Degrees
FoodReference.com (since 1999)
FOOD TRIVIA and FOOD FACTS SECTION