CHERIMOYA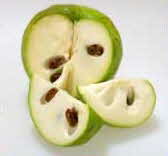 The cherimoya (Annona cherimola) is a member of the custard apple family, which includes the soursop, sweetsop, and atemoya. Native to the cool mountain valleys of Peru, and have been cultivated for local use for hundreds of years. The name 'cherimoya' comes from the Inca 'Quechua' language of Peru.
Cherimoya are oblong and vaguely heart shaped, with leathery green skin, which may be smooth or bumpy. They normally range in size from 6 to 18 ounces, but may weigh as much as 6 pounds, and under ideal conditions can attain weights up to 15 pounds. The flesh is light cream colored, juicy with a firm custard texture, and large inedible black seeds. The sweet taste is something like a mango/papaya/banana combination.
They bruise very easily and are very sensitive to severe cold, so commercial production is mostly local. They are now grown in many Central American countries, Mexico, Hawaii, India, Australia, Spain, Florida and California.

Please feel free to link to any pages of FoodReference.com from your website.
For permission to use any of this content please E-mail: [email protected]
All contents are copyright © 1990 - 2023 James T. Ehler and www.FoodReference.com unless otherwise noted.
All rights reserved. You may copy and use portions of this website for non-commercial, personal use only.
Any other use of these materials without prior written authorization is not very nice and violates the copyright.
Please take the time to request permission.
FOOD TRIVIA and FOOD FACTS
CULINARY SCHOOLS
& COOKING CLASSES
From Amateur & Basic Cooking Classes to Professional Chef Training & Degrees
FoodReference.com (since 1999)
FOOD TRIVIA and FOOD FACTS SECTION