See also: Article on Lettuce
CHICORY AND ENDIVE
The British and Americans speak the same language, usually, Then there are cookies and biscuits. And in this case, endive and chicory. What Americans call endive, the British call chicory, and what the Americans call chicory, the British call endive.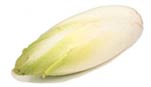 BELGIAN ENDIVE OR FRENCH ENDIVE (also Witloof chicory) - This leaf is a family member of chicory and escarole, with tightly packed leaves and bullet-like shape. Creamy yellow or white in color, slightly bitter in taste, but crisp in texture.
CDC.gov - 5 a Day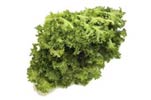 CHICORY OR CURLY ENDIVE - This leaf is slightly bitter, with darker outer leaves and paler or even yellow leaves towards the center. The leaves itself are ragged edged on long thin stems.
CDC.gov - 5 a Day
Certain varieties have large roots (Magdeburg chicory) that are roasted and ground to make a coffee supplement or substitute. A coffee/chicory blend is popular in Louisiana and is often called 'Creole' or 'New Orleans' coffee.
Radicchio is a variety of chicory.

Please feel free to link to any pages of FoodReference.com from your website.
For permission to use any of this content please E-mail: [email protected]
All contents are copyright © 1990 - 2023 James T. Ehler and www.FoodReference.com unless otherwise noted.
All rights reserved. You may copy and use portions of this website for non-commercial, personal use only.
Any other use of these materials without prior written authorization is not very nice and violates the copyright.
Please take the time to request permission.
FOOD TRIVIA and FOOD FACTS
CULINARY SCHOOLS
& COOKING CLASSES
From Amateur & Basic Cooking Classes to Professional Chef Training & Degrees
FoodReference.com (since 1999)
FOOD TRIVIA and FOOD FACTS SECTION