DELUXE DUTCH APPLE PIE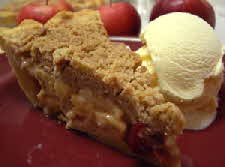 There's a reason why this is called deluxe. It's loaded with sweet apples and brown sugar and then accented with sour cream. (We like to spike it up with cranberries or walnuts but those are optional.) Then of course, it's topped with a streusel topping. (And of course, a streusel topping makes for an easier pie.)
Recipe courtesy of the Prepared Pantry - Dedicated to helping you bake with time-saving baking mixes, quality tools, hard-to-find ingredients, and some of the best baking information on the web.

Deluxe Dutch Apple Pie

• Deep dish pie shell for a nine-inch pie

• 8 cups peeled and sliced apples
• 2/3 cup dried cranberries (optional)
• 2/3 cup chopped walnuts (optional)
• 1/2 cup sugar
• 1/2 cup brown sugar
• 1/4 cup all-purpose flour
• 1/4 teaspoon nutmeg
• 1 teaspoon cinnamon
• 1/2 cup sour cream


Brown Sugar and Cinnamon Streusel
• 1 cup all-purpose flour
• 1/2 cup brown sugar
• 1/2 tablespoon cinnamon
• 1/3 cup cold butter cut into small pieces


Directions
1. Mix the sugars, flour, and spices in a large bowl. Add the apples, optional cranberries, optional nuts, and sour cream. Toss the fruit through the mixture with a spatula to coat.

2. Spoon the fruit mixture into the pie shell.

3. For the streusel, mix the all ingredients in a deep bowl. With a pastry knife, cut the butter through the mixture until it becomes coarse and granular. Spoon the streusel over the pie.

4. Bake in a preheated oven at 375 degrees for 40 minutes or until the topping is browned and the pie is bubbly.

5. Cool in the pan on a wire rack.

Serve with ice cream or whipped cream.