ALL AMERICAN APPLE PIE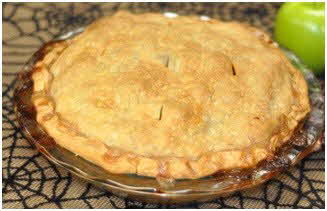 A delicious apple pie recipe, easy-to-prepare and perfect for family/friend gatherings and barbecues.
Yields 6-8 Servings
INGREDIENTS
• 2 Pillsbury pie crust ( one will be for the top the other as the bottom)
• 9 inch ceramic or Pyrex round pot
• 8 Cortland apples, cored and sliced into 1/4 inch halves
• 2 Tbsp. All-purpose flour
• 3/4 Cups sugar
• 1 Tsp. cinnamon powder
• A pinch of nutmeg
• 1 tbsp. fresh squeezed lemon juice
• 1/4 stick of light butter

DIRECTIONS
1.Pre-heat oven at 350° for 10 minutes.

2.In a medium size bowl mix all ingredients except the pie crust.

3.Place the pie crust at the bottom of the pot tag it nice and firmly begin filling in with the mixture.

4.Cover with the additional pie crust and fold edges of both pie crusts as to seal it.

5.Make four small cuts with the tip of a knife about an inch and bake in oven for about 45 minutes.

6.Cool on rack.

* Recipe courtesy of Maria Zoitas, creator of 'Maria's Homemade' line of prepared food sold exclusively at Westside Market NYC www.wmarketnyc.com/