CLASSIC APPLE PIE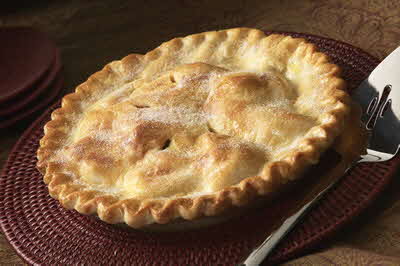 Prep Time: 25 minutes
Cook Time: 50 minutes
Makes 8 servings.
INGREDIENTS
• 1 package (15 ounces) refrigerated pie crusts
• 1 cup sugar
• 1/4 cup flour
• 1½ teaspoons McCormick® Apple Pie Spice
• 8 cups thinly sliced peeled Granny Smith apples
• 1 tablespoon butter

DIRECTIONS
1. Preheat oven to 400°F. Prepare pie crusts as directed on package for two-crust pie using 9-inch pie plate.

2. Mix sugar, flour and apple pie spice in small bowl. Sprinkle over apples in large bowl; toss to coat well. Spoon into pastry-lined pie plate. Dot with butter. Top with second pie crust. Seal and flute edge. Cut small slits in top crust. Brush crust with beaten egg and sprinkle with additional sugar, if desired.

3. Bake 45 to 50 minutes or until crust is golden brown and filling is bubbly. Cool on wire rack.
Test Kitchen Tip: We recommend using Granny Smith apples. However, if you like a sweeter pie, use Jonathan, MacIntosh, Stayman-Winesap, or Jonagold cooking apples.

Test Kitchen Tip: After 15 to 20 minutes of baking, cover edge of crust with strips of foil to prevent excessive browning.
Nutritional Information Per Serving: 407 Calories, Fat 15g, Carbohydrates 66g, Cholesterol 9mg,
Sodium 227mg, Fiber 1g, Protein 2g
Recipe courtesy of McCormick & Co.