APPLE TURNOVERS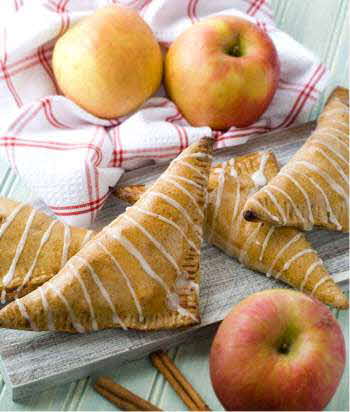 These delicious Apple Turnovers are perfect for baking after your next apple picking trip. They will spice up your kitchen this fall and leave your home smelling wonderful while you feel healthy and happy.
INGREDIENTS:
• 2 tablespoons lemon juice
• 1 teaspoon ground cinnamon
• 4 cups water
• 1 tablespoon cornstarch
• 4 Granny Smith apples - peeled, cored and sliced
• 1 tablespoon water
• 2 tablespoons unsalted butter
• 1 (17.25 ounce) package frozen puff
• 1 cup brown sugar, packed
• Pastry sheets, thawed

DIRECTIONS:
1. Preheat oven to 400°F. Use two large ungreased WearEver* Cookie Sheets.

2. Combine the lemon and 4 cups water in a large bowl. Place the sliced apples in the water to keep them from browning.

3. Melt butter in a large skillet over medium heat. Drain water from apples, and place them into the hot skillet. Cook and stir for about 2 minutes. Add brown sugar, and cinnamon, and cook, stirring, for 2 more minutes. Stir together cornstarch and 1 tablespoon water. Pour into the skillet, and mix well. Cook for another minute, or until sauce has thickened. Remove from heat to cool slightly.

4. Unfold puff pastry sheets, and repair any cracks by pressing them back together. Trim each sheet into a square. Then cut each larger square into 4 smaller squares. Spoon apples onto the center of each square. Fold over from corner to corner into a triangle shape, and press edges together to seal. Place turnovers on a baking sheet, leaving about 1-inch between them.

5. Bake for 25 minutes in the preheated oven, until turnovers are puffed and lightly browned.

Recipe and photo courtesy of WearEver
*The NEW WearEver Pure Living Bakeware collection features ceramic coated surfaces, which are free of PFOA, PTFE, and cadmium - a safe, eco-friendly alternative to nonstick. Durable and easy-to-use, the bakeware is dishwasher safe, scratch resistant, stain resistant and high temperature resistant, as well as suitable for use with metal utensils.