BBQ BAKED BEANS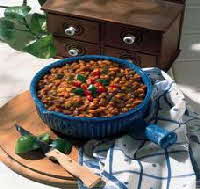 Baked beans are a must with your favorite barbecued foods.
Prep Time: 10 min.
Cook Time: 25 min.
Makes 8 to 10 servings

Ingredients
• 1 large bell pepper, chopped
• 1 small onion, chopped
• 2 strips bacon, finely chopped
• 3 (16 oz.) cans pork and beans
• 3/4 cup Cattlemen's® Award Winning Classic Barbecue Sauce or Cattlemen's® Authentic Smoke House Barbecue Sauce
• 1/4 cup French's® Spicy Brown Mustard or French's® Classic Yellow® Mustard
• 1/4 cup brown sugar

Directions
1. PLACE pepper, onion and bacon in large, microwave-safe bowl. Cover bowl loosely and microwave on HIGH for 5 min.

2. STIR in remaining ingredients.

3. MICROWAVE, uncovered, for 20 min. or until heated through and mixture is slightly thickened; stirring twice.
Conventional Oven Directions: Sauté bacon and vegetables in large nonstick skillet until bacon is cooked;transfer to casserole. Stir in remaining ingredients. Bake at 400ºF for 45 to 50 minutes, stirring occasionally.

Recipe courtesy of French's® Foods
French's Mustard is the perfect, all natural way to add flavor to your family's favorites. French's has been America's favorite mustard for over 100 years. Since its introduction at the 1904 World's Fair in St. Louis, Missouri, French's Mustard has been adding flavor to America's favorite sandwiches and recipes—without adding any fat. French's® Mustard is available in Classic Yellow®, Honey, Honey Dijon, Spicy Brown, and Horseradish flavors.