See also: Jicama Salad Recipes; Cooking Tips; Trivia
JICAMA: A Versatile Tuber
Jicama (Pachyrhizus erosus) belongs to the legume or bean family (Fabaceae) and is native to Mexico, Central and South America where it is a popular dietary staple. It had been cultivated by all major Mesoamerican civilizations. The Spanish introduced it to the Philippines in the 17th century and from there to Southeast Asia and China. Jicama was also used as a staple onboard ships because it stored well, could be eaten raw and was also thirst quenching. Today it is most prominently used in Mexico, South China and in the U.S.
There are many names for Jicama including: the Mexican potato, Mexican yam bean, ahipa, saa got, Chinese turnip, lo bok, and the Chinese potato.
(In Ecuador and Peru the name "jicama" is used for the unrelated Yacón or Peruvian ground apple, a plant of the Sunflower family whose tubers are also used as food).

Description and Varieties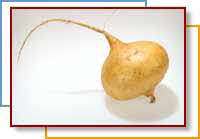 Jicama is a fleshy underground tuber and looks similar to a turnip or a large radish, with a taste and texture similar to a water chestnut. Its skin is thin and can be gray, tan, or brown in color with white flesh. Most of the tubers range in diameter from 4 to 8 inches and in weight from 1/2 pound to about 6 pounds*.

There are 2 cultivated types of P. erosos: agua is the turnip shaped type with translucent juice that is the preferred type usually found in markets; leche has an elongated root with a milky juice.
*There is also a larger rooted variety (Pachyrhizus tuberosus) whose tuberous roots can weigh up to 50 pounds).

Culinary Uses
The skin is typically peeled before eating it raw. Raw jicama taste is described as crisp, sweet and nutty, similar to a pear or an apple, or a cross between an apple and a potato. It is also slow to discolor when exposed to the open air. Because of this, raw jicama is often used as on raw vegetable platters. As a snack it is served sprinkled with lime juice a little chili powder. When it is used in cooking it tends to take on the flavors of the ingredients that it is being combined with. Therefore, jicama is a nice complement to various stir-fry dishes because it blends well with many vegetables and seasonings.
Most commonly eaten raw, it maintains much of its crispness when cooked and can be used as an alternative to water chestnuts. Jicama may also be cooked on its own as a vegetable, sauteed with with other vegetables, used in stir-fries or added to stews.
NOTE: Do not eat other parts of the jicama plant as they may be poisonous. Mature seeds have a fairly high content of rotenone, a chemical used as an insecticide and pesticide.

Purchasing & Storage
Jicama is available year-round, but is at its peak from October through May. When purchasing, select tubers that are firm and have dry roots. Make sure that they have an unblemished skin and they are not bruised. Once purchased, store them for up to two weeks in a plastic bag in your refrigerator.

Nutrition
Jicama is a very versatile vegetable that contains a high amount of vitamin C, is low in sodium, and has no fat. One adult serving of jicama, which is equal to approximately 1 cup of cubed jicama or 120 grams, also contains only 45 calories.
Serving Size (60g)
Amounts Per Serving % Daily Value *
Calories 25
Calories from Fat 0
Total Fat 0g 0%
Sodium 0mg 0%
Cholesterol 0mg 0%
Total Carbohydrate 5g 2%
Dietary Fiber 3g 12%
Sugars 1g
Protein 0g
Vitamin A 0%
Vitamin C 20%
Calcium 0%
Iron 2%
*Percent Daily Values are based on a 2,000 calorie diet.