TURNIPS
This root vegetable has been found all over Europe and Asia for centuries. A turnip looks larger than a radish and is a well known food source for both the root and greens. Turnips come in all shapes, sizes, and colors.


Availability, Selection, Storage, and Preparation
Turnips are available year round with a peak in the fall and winter months. Select smooth surfaced roots that are firm and heavy with some root hairs at the bottom. In general, the smaller the turnip, the sweeter the taste. Turnips keep well; cut the greens and bag them separately from the root placing them in the crisper section of the refrigerator for up to a week. Turnips can be peeled before cooking, eaten raw, or sliced, diced, or julienned. When cooking this delicate root, cook only to the just tender point; avoid overcooking as sweetness will diminish.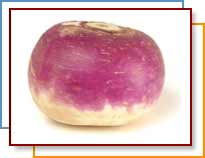 Make Turnips Part of Your 5 to 9 A Day Plan!
-- Serve turnip strips as part of your vegetable platter.
-- Create turnip relish, salsa, or slaw by adding shredded or julienne turnips.
-- Turnips make a great side dish-add shredded, julienned, or diced turnips to your favorite vegetable stir-fry and sautés.
-- Turnips make an excellent addition to any soup or stew.

Serving Size ½ cup


Amounts Per Serving % Daily Value
* Percent Daily Values are based on a 2,000 calorie diet.