PARSNIP
Parsnips look like a pale carrot and are actually a relative of the carrot, celeriac, and parsley root. Commonly found in Europe, this root vegetable arrived to the United States with the colonists. Popular in the 19th and early 20th centuries for its celery flavor and nutty fragrance, this vegetable was often used in recipes that called for caloric decadence.

This Hardy root vegetable grows best in cool climate regions. Although it is a biennial plant, farmers cultivate it as an annual crop. Native to Europe and Asia, the plant was introduced to North America in the 17th century. It is grown for its white fleshy, sweet flavored and earthy tasting root.
In most restaurants, parsnip is features as an exotic vegetable and made to purees, or roasted with other root vegetables. It tastes delightful when sliced thinly and deep fried as chips. Parsnips store well for months in a cool and dark place- the reason of its popularity for centuries.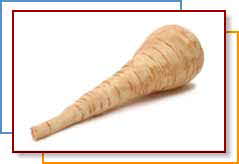 Availability, Selection, Storage, and Preparation
Parsnips are available year round with a peak from fall into spring. They are often displayed with the parsley root, so be sure you know which is a parsnip. Parsley roots are typically sold with their feathery greens whereas parsnips are sold by the root.

Select medium sized roots with uniform creamy beige skin. Avoid limp, pitted, or shriveled roots. Store parsnips unwashed wrapped in paper towel, placed in plastic, and store in the vegetable crisper of the refrigerator for about 2 weeks.
Wash, peel, and trim parsnips as you would a carrot. If steaming, then the parsnips skins will slip off after cooking. If pureeing parsnips, then leave skins intact.
Make Parsnips Part of your 5 to 9 A Day Plan
--Steam parsnips and serve with your favorite entrée.
--Roast parsnips with other root vegetables in a 400°F oven with a drizzle of olive oil and your favorite herbs. Serve as side dish.
--Simmer chunks of parsnips, then puree and add your favorite broth for a simple soup.
--Add parsnip chunks to all your soups and stews for interesting taste and texture.
Nutrition
Serving Size ½ cup
Amounts Per Serving % Daily Value
Calories 50
Calories from Fat 0
Total Fat 0g 0%
Cholesterol 0mg 0%
Sodium 5mg 0%
Total Carbohydrate 12g 4%
Dietary Fiber 3g 12%
Sugars 3g
Protein 1g
Vitamin A 0%
Vitamin C 20%
Calcium 2%
Iron 2%
* Percent Daily Values are based on a 2,000 calorie diet.