RUTABAGA
A cousin to the turnip, rutabagas are a cross between a cabbage and a turnip. Virtually unknown in the United States until the 19th century, this root gets its name from the Swedish word 'rotabagge' meaning round root. People have avoided this root because it is a cruciferous vegetable that becomes more flavored and odorous when cooked.

Availability, Selection, Storage, and Preparation
Rutabagas are available year round with a peak in the fall and winter. These roots range from tan to violet in color and are much larger than turnips; choose smooth, heavy, and firm roots. Smaller rutabagas, 4" in diameter, tend to have sweeter flavor. This root stores for about 2 weeks in the refrigerator or at room temperature for a week. Rutabagas are usually covered in wax, so it's best to quarter the root, then peel the skin before cooking.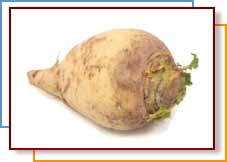 Make Rutabagas Part of Your 5 to 9 A Day!
- Bake or roast quartered rutabagas along side your favorite beef, pork, or chicken roast.
- Blanch julienne rutabagas and serve as part of your vegetable platter.
- Steam, microwave, or braise quartered or diced rutabagas and serve as a side dish to your entrée.
- Treat rutabagas like potatoes? serve them mashed, in soups and stews, or baked with your favorite toppings.

Nutrition
Serving Size ½ cup
Amounts Per Serving and % Daily Value
Calories 25
Calories from Fat 0
Total Fat 0g 0%
Cholesterol 0mg 0%
Sodium 15mg 1%
Total Carbohydrate 6g 2%
Dietary Fiber 2g 8%
Sugars 4g
Protein 1g
Vitamin A 8%
Vitamin C 30%
Calcium 4%
Iron 2%
* Percent Daily Values are based on a 2,000 calorie diet.