Yucca Root, Manioc, Cassava
Description and Uses
Yuca root, or occasionally Yucca root (Manihot esculenta), usually known as 'cassava' or 'manioc' (also tapioca plant, sago, boba), is the tuber of a large shrub. The tuberous roots, with a bark-like skin and white starchy flesh, is a tropical vegetable that is now widely grown and consumed in Africa, Asia, Latin America, and the Caribbean. In many countries, yucca root is a dietary staple usually eaten boiled, steamed, and in flour form as thickeners or additional ingredients for noodles, cakes, and pastries.
Tapioca is a starch extracted from the root, and cassareep is a thick syrupy flavoring made from cassava juice. It is also ground into a meal to make bread. Cassareep is a key ingredient in Jamaican Pepper Pot. The leaves are also eaten as a vegetable.
(This is not the same plant as Yucca, a member of the agave family, genus Yucca [a frequent ornamental plant] with which it is sometimes confused.)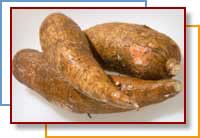 Yuca root, or cassava, is a bushy perennial that can grow as tall as 8 feet. The white interior of the root is firmer than potatoes and has high starch content. The fresh root has thick, dark brown skin that resembles a tree's bark.

Origin and Cautions
Cassava or yuca root is native to Central and South America where it has been used since prehistoric times. It is an unusual food source because the roots of most varieties have a defensive mechanism to discourage animals from eating it -- the roots contain a glucoside and an enzyme that react together to produce toxic hydrogen cyanide when the root is cut or peeled, and the poison can be fatal. Fortunately, the poisonous substance is soluble in water, so soaking or boiling in water renders it perfectly safe to eat. Varieties have also been bred to reduce the level of toxin in the roots.
Fresh yuca root is available year round. Look for firm blemish free tubers. Store whole cassava as you would potatoes, in a cool, dark, dry place for up to one week. Peeled root covered with water and refrigerated or wrapped tightly and frozen will keep for several months.
Cassava can easily be substituted for potatoes in soups and stews and it contains a high amount of vitamin C and carbohydrates. It is also a good source of dietary fiber and contains approximately 120 calories per 1 cup serving.
See also: Cassava Cooking Tips - Cassava Facts & Trivia

RECIPES:
Oven Fried Yucca Mashed Yuca with Cilantro and Lime

Chicken Cassava Pie Tapioca Pudding with Banana & Cassava

Nutrition
Serving Size (52g) - Amounts Per Serving - % Daily Value*
Calories 80; Calories from Fat 0; Total Fat 0g - 0%; Cholesterol 0mg - 0%
Total Carbohydrate 20g - 7%; Dietary Fiber 1g - 4%; Sugars 1g
Sodium 5mg - 0%; Protein 2g; Vitamin A 0%; Vitamin C 20%; Calcium 0%; Iron 0%
* Percent Daily Values are based on a 2,000 calorie diet.