See also: Jicama Article; Facts & Trivia; Jicama Salad Recipes
Jicama COOKING TIPS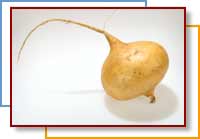 When cooked, jicama tends to retains its nice crisp texture and to take on the flavors of whatever other ingredients it is used with. It has a sweet, bland flavor that suits everything from fruit salad to stir-fried shrimp.

The crisp, white flesh of the root is often compared to that of the water-chestnut or like a delicious cross between a water-chestnut and an apple, with a delightful crunchy texture. It is also characterized as a cross between an apple and a potato.

1 medium jicama = 2 cups, cubed
1 lb yields about 3 cups chopped or 3 cups shredded
USES
Jicama is usually eaten fresh and uncooked. After the brown fibrous skin is peeled off, the flesh does not discolor.
• They can be sliced, diced, cut in strips, cut in squares or shredded for use in salads, as a garnish or with dips.
• Chilled slices can be sprinkled with salt, chili powder and lime juice as a tasty side dish.
• Serve slices or wide strips with guacamole or a spicy dip.
• Use as a low calorie cracker substitute - serve slices with dip or drizzled with olive oil and paprika or other seasoning.
• Cut into squares and use in fresh fruit salad, or marinate with vegetables.
• Shredded jicama makes an excellent 'slaw' combined with cabbage and carrots.
Like potatoes, jicama can be baked, boiled, steamed, braised, fried, creamed or mashed. Like the waterchestnut, it stays crisp even when cooked.
• Saute with green beans or carrots.
• Use in stir fried chicken or shrimp dishes and in braises and stews.

Jicama is low in starch and calories with no fat or cholesterol, it is ideal for dieters.
(See Jicama Article for full nutrition information)
STORAGE
Uncut, jicama can be stored in a plastic bag in the refrigerator for up to three weeks. Longer storage will result in conversion of starch to sugar and should be avoided.
Do not freeze.
CAUTION
Mature pods contain rotenone, which is poisonous and should not be eaten. However, the tuber itself is sweet, fresh tasting, and is perfectly safe to eat.