See also: Ice Cream Recipes --- Ice Cream Trivia
ICE CREAM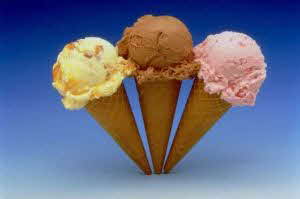 The best temperature for scooping ice cream is 8 to 12 degrees F.

Ice cream should be stored at 0 to -10 degrees F. to maintain it's texture.

When ice cream is stored below -13 degrees F. it remains stable indefinitely and will not form any ice crystals.
Store-bought ice cream should be stored no longer than 1 month in its original container because its container is not moisture-vapor resistant. If stored longer than 1 month, it loses volume and the surface becomes waxy and sticky. The flavor may also change. If ice cream must be stored longer, over-wrap the container with freezer paper or plastic wrap. Homemade ice cream is difficult to store for any length of time because it becomes grainy. (Commercial producers of ice cream add extra milk solids and/or gelatin to their products to prevent this.)
When you eat ice cream, or any hard frozen dessert for that matter, you may get a very painful headache. This is caused by blood vessel spasms which are triggered by the intense cold from the ice cream. The resulting headache is much the same as a migraine - the spasms interrupt the blood flow and cause the vessels to swell. To avoid this, just eat your ice cream slower.