JICAMA TRIVIA & FACTS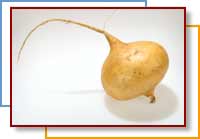 Jicama (pronounced hecama), is a South American plant of the legume or bean family. It is a climbing tropical vine which produces an edible tuberous root. (Also called yam bean and Mexican turnip).

The vigorous vining tops, which can reach 10-20 feet in length, have compound leaves with pointed edges. The plant bears white flowers and clusters of long, green lima bean-like pods on the fully developed plants. Removing the flowers at an early stage is said to yield better root production.

The mature seeds of the jicama plant contain a significant levels of rotenone, an insecticide, and commercial culture of the plant was once considered as a source of this insecticide. The vines, roots, beans, and mature pods are poisonous, but the immature pods are cooked up in many countries.

Jicama is rarely described for itself, but is compared to something else (apple/potato, waterchestnut, pear, potato/pear). The shape may be globular, turnip shaped, or lobed (a crosscut looks like a four-leafed clover).

Native to the Americas, jicama was introduced to the Philippines and Malaysia in the 17th century. It has since spread throughout Asia and the Pacific Islands.

Please feel free to link to any pages of FoodReference.com from your website.
For permission to use any of this content please E-mail: [email protected]
All contents are copyright © 1990 - 2023 James T. Ehler and www.FoodReference.com unless otherwise noted.
All rights reserved. You may copy and use portions of this website for non-commercial, personal use only.
Any other use of these materials without prior written authorization is not very nice and violates the copyright.
Please take the time to request permission.
FOOD TRIVIA and FOOD FACTS
CULINARY SCHOOLS
& COOKING CLASSES
From Amateur & Basic Cooking Classes to Professional Chef Training & Degrees
FoodReference.com (since 1999)
FOOD TRIVIA and FOOD FACTS SECTION