JUNIPER BERRIES

The name 'juniper' derives from French 'genievre,' which is French for gin.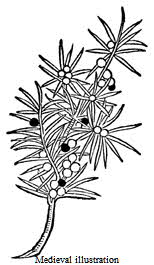 Juniper berries are the fruits of an evergreen bush found in northern Europe and America. Juniper berries are used in wines, beer, brandies, and is the key flavor ingredient in gin.

They are also used in marinades and sauces, especially for pork and game dishes.

Usually used dried, they should be crushed before use to release their essential oils.