Devin Alexander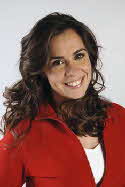 As host of HEALTHY DECADENCE WITH DEVIN ALEXANDER on Discovery Health, Devin Alexander reinvents mealtime favorites like chicken parmesan, hoisin glazed pork tenderloin and double chocolate brownies, showing viewers how easy it is to make small adjustments that reduce fat and calories without sacrificing flavor.

Devin is a veteran in the fight against obesity and she's winning the war with her unique approach to healthy cooking. Having maintained a 55 pound weight loss for over 15 years, she lives and eats her message: you don't have to deprive yourself to be fit and healthy.

Her first cookbook, Fast Food Fix (Rodale, 2006), offers the secrets to healthier versions of a wealth of fast food temptations. Her second cookbook, The Biggest Loser Cookbook (Rodale, 2006), which accompanies the hit NBC show, landed her a spot on The New York Times best-sellers list. Devin has also authored over 200 magazine articles and has served as culinary adviser, contributing food editor and cooking expert for popular health and fitness magazines.

Devin is the owner and executive chef of Café Renée Catering in Los Angeles, which specializes in cooking lower-fat, high-flavor, scrumptious cuisine that tantalizes even the pickiest of taste buds. Previously, she was an assistant teacher at the Westlake Culinary Institute, where she worked alongside chefs including the late Julia Child, Paul Prudhomme, Graham Kerr, Martin Yan, Hugh Carpenter, Celestino Drago and others.

Devin has worked extensively as a healthy lifestyle private cooking instructor, coaching hundreds of pounds off her clientele. She immensely enjoys the thrill of helping others recognize that "you don't have to deprive yourself to be fit and healthy."

Devin holds a bachelor's degree in theatre from Smith College and a Professional Chef Certification from the Westlake Culinary Institute. She is a member of the International Association of Culinary Professionals and the Association of Food Journalists, and she mentors an aspiring chef through Big Sisters of America.