NATIONAL SPINACH DAY LASAGNA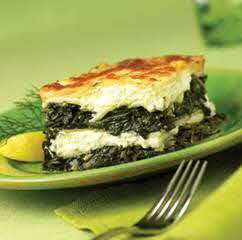 A National Spinach Day Recipe (March 26)
courtesy of Maria Zoitas*

INGREDIENTS
• 1 tablespoon extra virgin olive oil
• ½ onion, chopped
• 2 garlic cloves, crushed
• ½ teaspoon dried oregano
• ½ teaspoon dried basil
• 2 ,10-ounce packages frozen chopped spinach, defrosted and squeezed of excess water
• 2 cups non-fat cottage cheese
• 8 ounces part skim mozzarella cheese, shredded
• ¼ cup grated Parmesan cheese
• ½ cup chopped parsley
• 1 teaspoon salt
• 1/8 teaspoon black pepper
• 1 large egg
• 8 ounces no-boil lasagna noodles

DIRECTIONS
• Preheat oven to 350°F.

• Heat olive oil in skillet.

• Add onion and garlic, sauté for 2 minutes.

• Add spinach, oregano and basil. In a large bowl mix cottage cheese, mozzarella and Parmesan cheeses with parsley, salt, pepper and egg.

• Spread ½ spinach mixture in 8 x 8-inch ovenproof baking dish. Spread ½ cheese mixture on top.

• Add one layer of lasagna noodles. Repeat.

• Cover with foil and bake for 35 to 40 minutes.

• Remove foil and bake another 15 minutes.

• Let sit 10 minutes before serving.

* Recipe courtesy of Maria Zoitas, creator of "Maria's Homemade" line of prepared food sold exclusively at Westside Market NYC
www.wmarketnyc.com/