FONTINA SCALLOPED POTATOES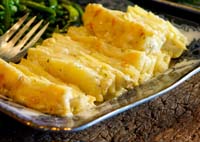 Creamy scalloped potatoes make a delightful accompaniment to a steak or roast beef dinner, but are also delicious with grilled fish, roast chicken, or almost any meat protein.
Why try? Scalloped potatoes are a nice change of pace from the usual plain baked potatoes, french fries, or mashed. They make a meal more special.
Foodie Byte: If the potato slices discolor as they sit, put them in a bowl and cover with the cream and chicken broth.
Prep Time: 10 minutes
Cook Time: 30 minutes
Serves: 6
Ingredients
~ 2 tablespoons unsalted butter
~ 1 medium onion, minced
~ 2 medium garlic cloves, minced or pressed through a garlic press
~ 1 tablespoon fresh thyme leaves, chopped
~ 1 1/4 teaspoon salt
~ 1/4 teaspoon ground black pepper
~ 2 1/2 pounds (about 5 medium) russet potatoes, peeled and sliced 1/8" thick
~ 1 cup low-sodium chicken broth
~ 1 cup heavy cream
~ 4 ounces Fontina cheese, shredded (1 cup)

Preparation
1. Preheat oven to 425°F.

2. Melt the butter in a Dutch oven over medium-high heat. When the foaming subsides, add the onion and cook, stirring occasionally, until soft and lightly browned, about 4 minutes.

3. Add garlic, thyme, salt and pepper. Cook for about 30 seconds.

4. Add potatoes, broth and cream and heat to simmer. Cover, reduce heat to medium-low, and simmer until the potatoes are almost tender (a paring knife can be slipped into and out of a potato slice with some resistence), about 10 minutes.

5. Transfer the mixture to an 8-inch square baking dish. Sprinkle evenly with cheese. Bake until the cream is bubbling around the edges and the top is golden brown, about 15 minutes.

6. Cool before serving.
Recipe & photo courtesy of The Food Channel® ( www.foodchannel.com )