HASS AVOCADO AND AU GRATIN POTATOES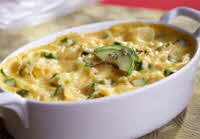 Serves: 4

Ingredients
• Non-stick cooking spray, as needed
• 2 cups fat-free, reduced-sodium chicken broth
• 1 (8 oz.) package reduced-fat cream cheese, placed at room temperature and cubed
• 1 (4.9 oz.) package Au Gratin Potato mix*
• 1 green onion, thinly sliced
• 1 Tbsp. fresh thyme leaves, chopped
• 1 ripe fresh Hass avocado, halved, seeded, peeled and cut into ½-inch cubes
• 1 cup grated Jarlsberg cheese, divided

Instructions
*Do not follow package instructions.

Prepare an 8 x 8 inch baking dish, pan or similar sized oval casserole dish with non-stick cooking spray.

In a medium sauce pan, bring broth to a boil over medium-high heat. Remove from heat and stir in cream cheese and contents of Au Gratin Potato seasoning packet.

Mix in dry potatoes, onion, thyme, avocado and ½ cup Jarlsberg cheese.

Pour into baking dish, making sure that all potatoes are submerged in the liquid.

Bake in 350ºF oven for 30 minutes.

Sprinkle remaining cheese on top and bake an additional 15 minutes.

Let stand 10 minutes before serving.

http://www.avocadocentral.com
Recipe courtesy of the Hass Avocado Board