See Also: Garlic Lovers; Garlic Haters;
Article on Garlic; Garlic Quotes
GARLIC TRIVIA & FACTS
Garlic is used in cooking in almost every culture and country in the world.

California produces more than 250 million pounds of garlic each year.
Chicago got it's name from the American Indian word for the wild garlic that grew around Lake Michigan - "chicagaoua".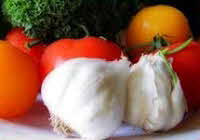 One farm in Monterey County (near Gilroy "The Garlic Capital of the World"*) plants 2000 acres of garlic and produces almost 25 million pounds annually.
*The Gilroy Garlic Festival is held in July each year.

Garlic and onions are among the oldest cultivated food plants. Their culinary, medicinal and religious use dates back more than 6000 years.

Garlic is pictured on ancient Egyptian tombs from 3,000 B.C. and is mentioned in the Old Testament, by Herodotus, Aristophanes, Virgil and Dioscorides. It is said to have grown in the left footprints of Satan when he left the Garden of Eden.

• Around 300 BC, Chinese courtiers had to use cloves to sweeten their breath in the presence of the emperor because they ate so much garlic.
4/22/03 It is not only Chinese courtiers long ago -- even today no-one in the British Royal Family eats garlic (so as not to have breath that might offend), and as a result no-one who works for them is a garlic-eater either. I have a friend who works at Buckingham Palace and who, as a consequence of being forbidden to eat garlic herself, has learned to be inordinately atuned to garlic breath in others. It seems that the purer one tries to become, the worse the rest of us smell. Michele
Garlic was an ingredient in mixtures used to attach gold leaf to early works of art.

Elephant garlic is actually closely related to the leek, and thought by some to be the wild ancestor of the leek. The bulbs are very large, and can weigh more than 1 pound. They are also much milder than regular garlic, and can be slice raw in salads. Whole cloves can be sautéed in butter and served as an appetizer.

• There is an all-garlic restaurant in Stockholm where they offer a garlic cheesecake.
There is also an all-garlic restaurant in San Francisco where they offer a garlic ice cream. The name of the place is a nickname for garlic...The Stinking Rose!
Gary from San Francisco

7/13/05 - I should like to add that there is an even older all-garlic restaurant in Helsinki, Finland. They do not only serve garlic cheesecake, but garlic anything, such as garlic beer. The restaurant was founded in 1987 and has been open every single day since then - they do not close even for Christmas Eve, which is utmost unusual in Finland. Their Finnish name Kynsilaukka is an old, popular name for garlic, and literally it means "claw leek" (or "clove leek").
Jaakko Rahola (Mr.)
Member and ex-vice president of the Garlic Society in Finland - Espoo, Finland

FREE Magazines
and other Publications
An extensive selection of free magazines and other publications
FOOD TRIVIA and FOOD FACTS
Please feel free to link to any pages of FoodReference.com from your website.
For permission to use any of this content please E-mail: [email protected]
All contents are copyright © 1990 - 2023 James T. Ehler and www.FoodReference.com unless otherwise noted.
All rights reserved. You may copy and use portions of this website for non-commercial, personal use only.
Any other use of these materials without prior written authorization is not very nice and violates the copyright.
Please take the time to request permission.
CULINARY SCHOOLS
& COOKING CLASSES
From Amateur & Basic Cooking Classes to Professional Chef Training & Degrees
FoodReference.com (since 1999)
FOOD TRIVIA and FOOD FACTS SECTION