See also Chayote Article
CHAYOTE FACTS & TRIVIA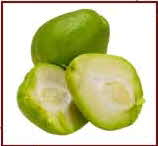 Chayote (Sechium edule), also known as: custard marrow, christophene (France, Caribbean), chouchoute (Madagascar, Polynesia), brione (France, West Indies), vegetable pear, cho-cho, soussous, chuchu, choko, pipinella, xuxu, mirliton (southern U.S.), mango squash, and huisquil.
For all these exotic names, this is simply a subtropical member of the squash family, eaten as a vegetable. Chayote has a light green to white, pear shaped fruit with a single seed and a taste similar to zucchini. They may be eaten raw or baked, boiled, stuffed or fried, The young root tubers and shoots are also eaten.
Chayote is native to Mexico and Central America and was a popular vegetable with the Mayas and Aztecs. It's cultivation has spread all over the world, including Algeria, Madagascar, Polynesia, southern U.S., China, Indonesia, New Zealand and Australia.