CELERIAC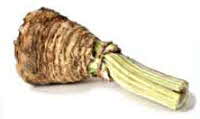 Celeriac (Apium graveolens var. rapaceum) is a variety of celery that is cultivated for it's knobby, globular root, which has a celery-like flavor. It is also known as celery knob, turnip rooted celery, celery root and 'céleri-rave' in French.
The interior of the baseball sized roots is smooth and white, somewhat similar to a kohlrabi, with a strong celery-like flavor.

It can be eaten raw in salads or cooked, and anything you can do with a turnip, you can do with celeriac.