See Also: Moray Eel; Unagi Pie Trivia;
Eel Recipes
EEL TRIVIA: EEL FACTS
Eels are one of a only a few species of fish that can swim backward.

Freshwater eels account for 1/8 of global aquaculture production.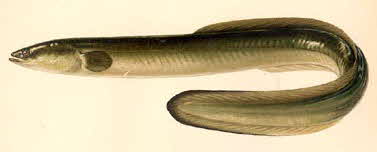 All eels from around the world return to the Saragasso Sea, between Bermuda and Puerto Rico, to spawn and then die. The eggs hatch into larvae with large teeth. As the larvae are carried by currents, and as they drift they change into a more eel-like form. When they reach about 2 inches in length, they move into freshwater rivers and streams where they remain for several years as they grow into mature eels.

Eels are a popular food in Europe and Japan, and eel fishing is an important commercial fishery.

The European Eel, Anguilla anguilla and the American Eel, Anguilla rostrata are nocturnal freshwater fish that prefer muddy bottoms.

Unagi Pie is a specialty of Hamamatsu, the largest city in Shizuoka, Japan (nearby Lake Hamana is famous for eel farming). They are an 'eel cookie'.

Please feel free to link to any pages of FoodReference.com from your website.
For permission to use any of this content please E-mail: [email protected]
All contents are copyright © 1990 - 2023 James T. Ehler and www.FoodReference.com unless otherwise noted.
All rights reserved. You may copy and use portions of this website for non-commercial, personal use only.
Any other use of these materials without prior written authorization is not very nice and violates the copyright.
Please take the time to request permission.
FOOD TRIVIA and FOOD FACTS
CULINARY SCHOOLS
& COOKING CLASSES
From Amateur & Basic Cooking Classes to Professional Chef Training & Degrees
FoodReference.com (since 1999)
FOOD TRIVIA and FOOD FACTS SECTION