SEE ALSO: Pepper Trivia; Pepper Cooking Tips
Articles: Black Pepper Report; Pepper, Nothing to Sneeze At
BLACK PEPPER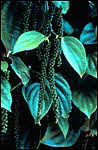 U.S. consumers purchase more than 1.3 million pounds of black pepper each year.
Black peppercorns are the mature but unripe berries of Piper nigrum, picked when green and then dried. They have the classic pepper taste used for seasoning. Common types are telicherry, malabar, sarawak and lampong.
Black Pepper adds flavor to almost every food of every nation in the world. It is used in rubs, spice blends, salad dressings, and peppercorn blends.

Because pepper can be stored for many years without losing its flavor and aroma, it has long been known as the master spice.

Pepper was so precious in ancient times that it was used as money to pay taxes, tributes, dowries, and rent. It was weighed like gold and used as a common medium of exchange.