SEE ALSO: Pepper Trivia; Pepper Cooking Tips

Articles: Black Pepper Report; Pepper, Nothing to Sneeze At
BLACK PEPPER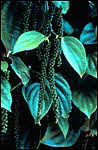 U.S. consumers purchase more than 1.3 million pounds of black pepper each year.
Black peppercorns are the mature but unripe berries of Piper nigrum, picked when green and then dried. They have the classic pepper taste used for seasoning. Common types are telicherry, malabar, sarawak and lampong.
Black Pepper adds flavor to almost every food of every nation in the world. It is used in rubs, spice blends, salad dressings, and peppercorn blends.

Because pepper can be stored for many years without losing its flavor and aroma, it has long been known as the master spice.

Pepper was so precious in ancient times that it was used as money to pay taxes, tributes, dowries, and rent. It was weighed like gold and used as a common medium of exchange.

CULINARY SCHOOLS
& COOKING CLASSES
From Amateur & Basic Cooking Classes to Professional Chef Training & Degrees - Associates, Bachelors & Masters - More than 1,000 schools & classes listed for all 50 States, Online and Worldwide
FOOD TRIVIA and FOOD FACTS
Please feel free to link to any pages of FoodReference.com from your website.
For permission to use any of this content please E-mail: [email protected]
All contents are copyright © 1990 - 2023 James T. Ehler and www.FoodReference.com unless otherwise noted.
All rights reserved. You may copy and use portions of this website for non-commercial, personal use only.
Any other use of these materials without prior written authorization is not very nice and violates the copyright.
Please take the time to request permission.
FoodReference.com (since 1999)
FOOD TRIVIA and FOOD FACTS SECTION