Winning Recipes in Athens Foods'
"Make it Fabulous with Fillo" Recipe Contest
One winning recipe below
(Links to additional Winning Recipes in blue box to the left)

Unlike other recipe contests where entrants don't know what they are competing against, Athens "Make it Fabulous with Fillo" Recipe Contest is a real-time, interactive contest with weekly and monthly prizes leading up to the finale. (Contest Deadline is February 1, 2010)
44 weekly prizes, $50 each
10 monthly prizes, $120 each
1 'Fan Favorite', $600
$5,000 grand prize
2, $1,500 first place prizes

The weekly and monthly winners, which are judged by culinary professionals, will be announced throughout the contest on the Athens website, where visitors can comment and rate the recipes as they are entered.
The recipes are judged using four main criteria for Fillo Dough recipes and four criteria for Mini Fillo Shell recipes. Each recipe can receive up to 10 bonus points: 5 points for a photo submission and 5 additional points for a video submission.
WEEK 11 WINNING RECIPE
PHY-DOUGHLA-CHILADA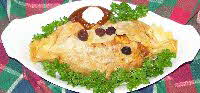 posted by Susansouffle

Ingredients
~ 8 Athens Fillo Sheets, room temp
~ 2 cups cooked chicken, diced
~ 1 small can chopped green chiles, drained
~ 6 Tblsp. enchilada sauce, your favorite
~ 3 Tblsp. red taco sauce
~ 3 cups grated jack or colby jack cheese
~ 3 Tblsp olive oil
~ 3 tsp chili powder
~ salt & pepper if desired
~ green or ripe olive slices for garnish
~ non stick spray
~ 4, 10 inch oval au gratin, oven safe dishes

Instructions
Lightly spray au gratin dishes.

In medium bowl mix 2 cups diced chicken, 1 small can chopped gr chiles, 6 Tblsp enchilada sauce, 3 Tblsp. red taco sauce, 3 cups grated cheese & salt & pepper if desired. Set aside.

Put 3 tsp. chili powder in a small bowl.
In another small bowl put 3 Tblsp olive oil.

Preheat oven to 350 degrees.

Lay one sheet Athens fill on dry work surface.
Lightly brush with oil & sprinkle 1/2 tsp chili powder.
Lay another sheet on top & do the same.
Lay a damp, almost dry tea towel on waiting fillo, to keep soft and tender.
Continue until 4 sheets are in place.
Do not oil 4th sheet.

Cut stacked fillo's in half crossways (6 1/2 inches).
Place 1/4 of the filling in the middle of each, mushing out, a little towards the ends, leaving 1 1/2 inches on both ends.

Fold fillo together, slightly overlapping in the middle & lightly squeeze & twist ends & put into prepared dishes.
Continue preparing until 4 total are assembled.
Garnish with green or ripe olive slices.

Bake @ 350 degrees for 15 to 20 minutes

Serve with your choice; extra enchilada sauce, refried beans, lettuce, tomato, green onion, sour cream and or guacamole.

Note: Fun to say and even more fun to eat. The end pieces are fantastic!!