Fishing for Frugal Recipes Contest Winner
Missouri's Emily Hobbs Catches $5,000 In Cooking Contest And Reels In Her Dream
Grand Prize Winning Tilapia Tostados Recipe Below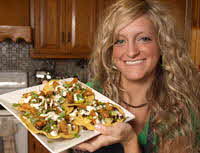 Bradenton, FL, August 31, 2009 -- She's 24 and still lives with Mom and Dad. But don't you dare assume Emily Hobbs lacks ambition.

This determined waitress has been scrimping pennies for eight years with the hopes of fulfilling her dream in the next year of attending the French Culinary Institute in New York, a goal that was spurred by a trip to France when Emily was a senior at Ozark High in Missouri.

Now, thanks to Regal Springs Tilapia, it looks like Emily might be one step closer to that dream.

Emily, who cooks constantly in her spare time, says she enters hundreds of cooking contests. She's had some success, winning a few hundred bucks here and there or a trip to compete in a contest, but she hit the jackpot recently when she won the grand prize in the company's cooking contest. Emily beat out 300 other entrants nationwide to bring home the $5,000 prize, by far the most money she's ever won.

"When I got the call that I had won, I was in shock," Emily said. "I'm so grateful."

When Regal Springs Tilapia put out the call for creative and cost-conscious cooks to devise frugal family meals that cost less than $15 to prepare, Emily went to work. When she wasn't serving tourists chicken gizzards at Lambert's Café, she was thinking about cooking the mild whitefish.

In the back of her mind were a couple of heart-breaking near misses.

In January, she competed against three other contestants on the Food Network's "Ultimate Recipe Showdown." Despite the recipe category being one of her favorites-comfort food-she came up short, losing by just one point. In 2006, she won a trip to New York to compete in a beer cook-off. She prepared a tempting caramelized onion and eggplant crostini, but again missed out.

This time she was determined the outcome would be different. Emily, a huge fan of Mexican food, started tinkering with tostados. "I was thinking about fish tacos with this contest, but everyone does a fish taco. So I thought about a tostado and how fun it would be for kids to put their own toppings on them." The result was clearly a winner.
A team of four restaurant chefs judged the contest, pouring over the entries to determine the winning recipe based on its creativity, ingredients and thoroughness of instructions. Judges were: Tony Priolo of Piccolo Sogno, Roger Herring of Socca, Chris Macchia of Coco Pazzo and Dirk Flanigan of The Gage, all restaurants in Chicago.

"The thought that went into these recipes was unbelievable," says Flanigan. "The winning recipes were created by grandmothers, soccer moms, culinary students and even professional chefs. I was surprised by how creative they were and how they could integrate a mild-tasting fish like tilapia into a meal for under $15. The top recipes included tostados, tilapia cake and lettuce wraps."

Mike Picchietti, president of Regal Springs Tilapia, said: "We were amazed at the response we received from coast to coast. We look forward to sharing these healthy recipes on our website so that more families can enjoy incorporating tilapia into their weekly menu plan."

In addition to the grand prizewinner, Emily Hobbs, who took home $5,000, there were five finalists who each earned $150 and a three-month supply of Regal Springs Tilapia. There were also five honorable mentions. The complete list of winners includes:

Finalists:
Brent Bennett, Charleston, SC, Tilapia Cake
Sheri Bowling, Ormond Beach Fl, Tilapia Lasagna
Janice Elder, Charlotte, NC, Lettuce Wraps
Shannon Kohn, Simpsonville, SC, Peppered Tilapia Salad
Nancy Smith, Elgin, IL, Crunchy Tilapia with Spinach Salad

Honorable Mentions:
Edward Leonard, Rye, NY, Zucchini-Wrapped Tilapia
Cinthia Mendez-Chavez, Indio, CA, Parmesan Tilapia
Blaine Burgess, Little Rock, AR, Buttercrumb Tilapia
Veronica Callaghan, Glastonbury, CT, Tilapia Joes
Roxanne Chan, Albany, CA, Tilapia Salad Pizza
RECIPE
TILAPIA TOSTADOS
– by Emily Hobbs
Makes 4 servings (3 tostadas each)

Ingredients:
• 3/4 cup canned black beans, drained
• 1/2 cup coarsely chopped canned pineapple, drained
• 1/3 cup canned corn, drained
• 3 Tbsp. coarsely chopped, jarred pickled jalapeno peppers
• 1/4 cup chopped scallions
• 1 tsp. salt, divided
• 1/2 tsp. black pepper, divided
• 1/4 cup low-fat sour cream
• 1/4 cup salsa verde
• 20 tostada shells
• 2 1/2 tsp. ground chili powder
• 1 lb. Regal Springs tilapia filets, cut into bite-sized pieces
• 1/2 cup vegetable oil
• 1/4 cup coarsely chopped cilantro


Directions: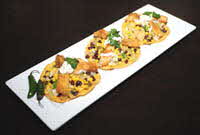 To make the pineapple salsa, in a medium bowl, stir together beans, pineapple, corn, jalapeno, scallion, 1/2 tsp. salt and 1/4 tsp. pepper until well combined; set aside. To make the salsa verde crema, in a small bowl, stir together sour cream and salsa verde until combined; set aside.

Take 8 of the tostada shells, break them up, add to a food processor and process until ground; place in a medium bowl, and stir in chili powder, 1/2 tsp. salt and 1/4 tsp. pepper until well combined. Dredge the tilapia pieces into tostada mixture to coat completely and set aside.

Heat oil in a large skillet over medium heat until hot. Working in two batches, saute tilapia pieces 2-3 minutes per side or until golden brown and cooked through; transfer pieces to paper towels to drain. To assemble tostadas, spoon pineapple salsa onto remaining tostada shells, evenly top with tilapia pieces and a drizzle of salsa verde crema. Sprinkle with cilantro and serve.

About Regal Springs
Regal Springs Tilapia was founded in 1988 and is known for its unprecedented, sustainable approach to raising the popular whitefish Americans have grown to love. Regal Springs adheres to the highest standards at its farms in Honduras and Indonesia, which are located in fresh, clean lakes. Regal Springs goes to great lengths to produce superior tilapia using sustainable methods. For this reason, fish lovers who are looking for the best-tasting, highest quality tilapia should always make sure their fresh fish is produced in Honduras and their frozen fish is from Indonesia. Learn more at www.regalsprings.com