Recipe Contest Winners:
Sister Schubert's On A Roll Recipe Contest
Cincinnati-area woman wins Grand Prize for Upside Down Banana Pecan French Toast Recipe
Recipe Below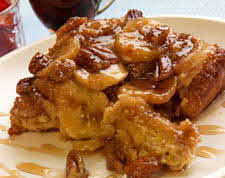 August 2009, Luverne, Ala. – Sister Schubert's Homemade Rolls has awarded the grand prize in its On a Roll Recipe Contest to Nadine Mesch of Mt. Healthy, Ohio. Her Upside Down Banana Pecan French Toast recipe rolled to the top of more than 1,300 other entries to win a suite of new Frigidaire Professional Series kitchen appliances.

The On a Roll Recipe Contest sought original recipes made with any variety of Sister Schubert's Homemade Rolls. More than 1,300 entries from all over the country were submitted between March 1 and May 31, 2009.

"It was a real challenge to choose a winner from so many outstanding entries, but this is truly the most mouthwatering French toast I have ever tasted," said company founder Patricia 'Sister Schubert' Barnes, who led the judging panel that evaluated recipes based on taste, simplicity and appearance.

"All of the winning recipes are quick, easy and delicious," she said. "We focused on simple recipes to create more ways for time-strapped families to enjoy a home-cooked dinner, snack or dessert together."

In addition to the overall winner, the best recipe in each of four categories won a $1,000 first prize. Categories, recipes and winners include:
• Breakfast & Brunch – Berry Cream Cheese Coffee Cake.
Teresa Porter of Concord, N.C.
• Anytime Snacks – Walnut Asiago Bites.
Mary Leverette of Columbia, S.C.
• Holiday & Parties – Sun-dried Tomato and Artichoke Party Cups.
Patricia Gonatos of Palm Harbor, Fla.
• Dinnertime Meals – Scalloped Chicken and Mushroom Bake.
Lily Julow of Gainesville, Fla.
All four of the Winning Recipes are featured on the www.sisterschuberts.com Web site along with recipes from Mrs. Barnes' own collection.

WINNING RECIPE
Upside down Banana Pecan French Toast
by Nadine Mesch
Serves 10
Prep Time: 20 minutes
Bake Time: 55 minutes

Ingredients
• 2 packages Sister Schubert's Wheat Rolls with Honey Butter
• 1 1/4 cups light brown sugar
• 1/2 cup (1 stick) butter, melted
• 1/4 cup corn syrup
• 4 medium, ripe bananas
• 1/2 cup pecans, chopped
• 2 teaspoons ground cinnamon
• 6 large eggs
• 1 1/2 cups half and half
• 1 1/2 teaspoons pure vanilla extract
• Maple syrup
• Fresh sliced strawberries


Preparation
Butter bottom and sides of a 9 x 13 inch baking dish. Slice rolls in half and set aside.

In mixing bowl, combine sugar, butter and corn syrup and mix until smooth. Spread mixture into an even layer in bottom of prepared baking dish. Slice bananas thinly and place over brown sugar mixture. Scatter pecans over bananas. Place sliced rolls atop and sprinkle with cinnamon.

In a large mixing bowl, whisk together eggs, half and half and vanilla, and pour over rolls.

Cover tightly with plastic wrap. Refrigerate overnight.

Preheat oven to 350 degrees. Bake 45 to 55 minutes or until golden. Cool slightly, run a knife around the edge of pan to loosen sides and carefully invert pan onto a large platter or slice and serve.

Serve with warm maple syrup and sliced strawberries.

About Sister Schubert's Homemade Rolls
Sister Schubert's Homemade Rolls was founded in Troy, Ala., by Patricia "Sister Schubert" Barnes in 1991. Today, it is a subsidiary of T. Marzetti Company, Lancaster Colony's specialty foods division. Sister Schubert's produces 12 varieties of rolls at three bakeries: the company headquarters in Luverne, Ala.; Saraland, Ala.; and Horse Cave, Ky.
For more information, visit SisterSchuberts.com