Florida Chef Wins Great American Seafood Cook-Off in New Orleans
Recipe: Sebastian Inlet Clams BBLT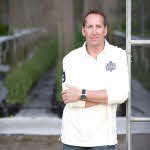 Chef Dean Max of Fort Lauderdale captured top honors at the Great American Seafood Cook-off on August 7 in New Orleans. He was crowned "King of American Seafood" after besting 13 other teams from across the country. Each team prepared a domestic seafood dish that reflected the cuisine of their home state. Chef Dean's winning entry was "Sebastian Inlet Clams BBLT (Bacon, Basil, Lettuce, and Tomato)."

With the recent oil spill in the Gulf of Mexico, interest in the New Orleans-based cook-off was especially intense this year. Chef Dean said he was pleased to have the chance to celebrate Florida seafood at such a high-profile event and expressed confidence in the safety of Gulf seafood, pointing out that the Food and Drug Administration and other agencies are constantly monitoring seafood quality.

"The majority of the Gulf is considered pristine, hosting many varieties of seafood that remain a healthy delicacy," he said. "With the focus of so many organizations testing the waters, I feel that eating Gulf seafood has never been safer."

Florida Agriculture Commissioner Charles H. Bronson said the cook-off was a great opportunity to showcase Florida seafood on the national stage.

"This event helped get out the message that Florida seafood is safe, plentiful and available," Bronson said. "Our state's commercial fishermen are bringing in their quality catch daily. Add to that the creativity of Chef Dean Max, and you've got a winning combination."

In addition to Florida, competing chefs represented Alabama, Alaska, Idaho, Illinois, Kentucky, Louisiana, Maine, Mississippi, New Jersey, North Carolina, Oregon, Texas, and West Virginia. The chefs were given two hours to prepare their dishes and present them to the judges.

The panel of judges included Chef Rick Tramonto of Chicago restaurants Tru, Tramonto Steak and Seafood, and Osteria di Tramonto; Chef Jeff Tunks of Ceiba in Washington, D.C.; Chandra Ram, executive editor of Plate magazine; Beverly Stephen, executive editor of Food Arts magazine; and Chef Justin Timineri, winner of the 2006 Great American Seafood Cook-off and executive chef for the Florida Department of Agriculture and Consumer Services. This year's cook-off was hosted by Jeff Corwin of Animal Planet and the Food Network's Extreme Cuisine. Co-host was Chef John Folse, Louisiana's Culinary Ambassador.

Presented annually by the Louisiana Seafood Promotion and Marketing Board, the Great American Seafood Cook-off (www.greatamericanseafoodcookoff.com/), which encourages the use of products from sustainable fisheries, is now in its seventh year. Sponsors included the National Oceanic and Atmospheric Administration, FishWatch, Michelob Brewing Company, Whole Foods Market, Tabasco, Loubat Food Service Equipment, Louisiana Restaurant Association, and the Royal Sonesta New Orleans Hotel.

Dean James Max is the executive chef at 3030 Ocean. The restaurant opened in 2000 and is located at the Marriott Harbor Beach Resort and Spa on Fort Lauderdale Beach. Earlier in his career, Chef Dean was an executive chef and part owner of Atlanta's popular Mumbo Jumbo restaurant and executive chef at Woodside in Brentwood, California. He is classically trained in French cooking. His cookbook, "A Life by the Sea," was published in 2006.