Lindsay Olives Pizza Challenge Contest Winners
September 9, 2009
(Grand Prize Winning Recipe Below)
After several exhausting weeks of testing and tasting, Lindsay Olives and World Pizza Champ Tony Gemignani have finally selected the winners of our olive pizza challenge. Thanks to the hundreds of dedicated olive lovers who submitted their yummy recipes. The judging was extremely difficult, but based on the most original recipe, best tasting pie, visual appeal and, of course, use of olives, we're proud to announce our Grand Prize Winner and 11 Runners-Up (drum roll please….)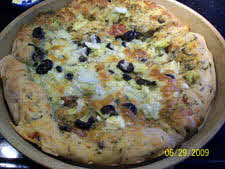 Grand Prize Winner - Jessie Grearson - Falmouth, Maine.
Jessie created a wonderfully delicious, beautiful Black Olive, Artichoke and Pesto Pizza with Olive, Sun-dried Tomato and Rosemary Crust. She says "This pizza incorporates the flavor profile of my favorite olive tapenade - black olive, lemon, rosemary, sun-dried tomatoes - into the crust. Excellent!"

Jessie wins a $250 pizza party at her favorite pizzeria, 12 cases of tasty Lindsay Olives (www.lindsayolives.com), a video of Tony making her pizza and a copy of Tony's new book Tony and the Pizza Champions autographed by all the Pizza Champs!
(List of Runners-Up below)
Here's Jessie's winning recipe:
Black Olive, Artichoke and Pesto Pizza with Olive, Sun-dried Tomato and Rosemary Crust

INGREDIENTS:
For the dough (enough for two crusts):
• 1 ½ cups warm water
• 1 teaspoon Saf-instant yeast or Fleischmann's Instant
• 2 teaspoons sugar
• 2 teaspoons salt
• 3 tablespoons olive oil
• 1 cup whole wheat flour (such as King Arthur's)
• About 3 to 3 ¼ cups Italian Pizza Flour (such as Caputo Tipo 00 or King Arthur's Italian-Style)
• ¼ cup roughly chopped Lindsey's Pitted Black Ripe Olives
• ¼ cup sun dried tomatoes
• ½ teaspoon lemon zest
• ½ teaspoon finely minced rosemary
• 1 teaspoon finely minced garlic
Toppings (for one pizza; double if you'd like to make two):
• ¼ cup good-quality pesto** (recipe for homemade follows)
• 3 Tablespoons crumbled feta cheese
• ¼ cup sliced Lindsey's pitted black ripe olives
• ¼ cup diced onion
• ¼ cup chopped ripe tomato, well drained
• ¼ cup artichoke hearts, drained and chopped
• 1 cup grated fontina cheese
• 2 tablespoons Asiago cheese
• 1-2 tablespoons olive oil, drizzled
• Fresh basil and parsley, minced

DIRECTIONS:
Make the dough:
Start yeast in warm water; add sugar, salt, oil, and whole wheat flour. Stir vigorously and blend in 2 cups of pizza flour, olives, tomatoes, zest, rosemary and garlic. Add more pizza flour until you can turn out the dough. Knead until smooth, adding a little flour as necessary. Let rise for about 1 to 1 ½ hours in a warm spot in an oiled bowl. (Using Pizza flour is important--it produces a more relaxed dough that can be rolled thin.) I have also refrigerated this dough for next-day use; just let it warm up for a while before handling.

Divide dough in half and reserve one half for another pizza.

To assemble pizza, stretch dough onto large round pizza stone (14") sprinkled with cornmeal. Top dough with pesto, feta, black olives, onion, tomatoes, and artichoke hearts. Sprinkle with fontina, asiago, and drizzle with olive oil. Sprinkle with fresh minced herbs and salt and fresh ground pepper to taste.

Bake in a preheated 450 degree oven for 12-14 minutes, or until cheese turns golden and bubbly. Remove, and slice.
Kitchen Tips:
For homemade pesto in a food processor or blender, process:
• 1 cup gently packed fresh basil leaves, no stems
• 1 large clove fresh garlic
• 1 teaspoon salt
• ½ cup good quality Parmesan cheese
• ¼ cup extra virgin olive oil
• ½ teaspoon fresh ground black pepper (makes a generous half cup)

Bravo to our 11 Runners-Up!
Each of these creative pie makers wins a copy of World Pizza Champ Tony Gemignani's new book Tony and the Pizza Champions autographed by the champ himself!
• Linda Cifuentes; Mahomet, IL; My Little Greek Pizza
• Brenda Day; Savannah, GA; Provencal Pizza
• Joyce Ford; Coatesville, PA; South of the Border Pizza
• Karen Gulkin; Greeley, CO; "Olive" My Spicy Pizza
• Diane Hargrave; St. Joseph, MO; Olive Appetizer Pizza
• David Hurt; San Francisco, CA; Black and White Pizza
• Radelle Knappenberger; Oviedo, FL; Chicken, Olive Pear & Brie Pizza
• Jamie Miller; Napa, CA; Camembert-Shallot Pizza with Olive Tapenade
• TerryAnn Moore; Vineland, NJ; Mexican Pizza
• Mary Shivers; Ada, OK; The Olive Alfredo Triple Play Pizza
• Amanda Willis; Chesapeake City, MD; Grilled Bleu pizza