Bob's Red Mill 'Spar for the Spurtle' Winners
Cooking Competition Winner to Travel to Scotland to Compete in the Golden Spurtle World Porridge Making Championship
Portland, Oregon (August 15, 2012)
In a classic culinary battle for the ages, savory bested sweet to win Bob's Red Mill Natural Foods' Spar for the Spurtle 2.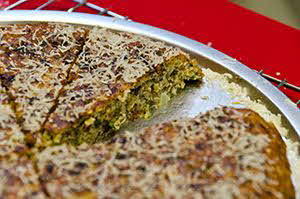 Laurie Figone of Petaluma, California, took the grand prize at the Ultimate Oatmeal Throwdown live cook-off with her Italian Pinhead* Torta in the finale to the 2012 Spar for the Spurtle oatmeal recipe competition. With the savory Italian-inspired dish, Figone won an all-expenses paid trip to Scotland where she will represent Bob's Red Mill in the 19th annual Golden Spurtle World Porridge Making Championship this October. (* 'Pinhead' is a Scottish term for steel cut oats.)
"Wow, winning a competition like this is truly a dream come true for me!" said an emotional Figone following the competition. "I am just so excited to go to Scotland and compete in the World Porridge Championship on behalf of Bob's Red Mill, and I thank Bob and everyone at the company for the opportunity." (Visit winner Laurie Figone's website)
Figone battled head-to-head against two other finalists in front of a packed crowd at the Bob's Red Mill Whole Grain Store and Visitors Center. The other two finalists, Lanie Smith of Topeka, Kansas, and Kerri Willoughby of Whitewright, Texas, both prepared sweet dishes - Paradise Porridge Potstickers and Raspberry Oatmeal Dumplings, respectively.
Ultimately, the panel of celebrity judges selected Figone's recipe as the winner based on taste, creativity and overall presentation. The judges – New York Times "Recipe for Health" columnist Martha Rose Shulman; food journalist, best-selling author and former Iron Chef America judge Kim Sunée; and Whole Living magazine Executive Editor Jocelyn Zuckerman – said the decision was a tough one, but that Figone's dish really shined.
The three finalists were chosen from the nearly 100 Bob's Red Mill fans who submitted video recipes that featured Bob's Red Mill's Steel Cut Oats, the "World's Best Oatmeal," in the second annual Spar for the Spurtle contest.
"I've been doing this for 40 years now, and every day I am amazed by the creative ways our fans are using our whole grain products. I'm just glad I wasn't a judge!" said Bob Moore, founder and president of employee-owned Bob's Red Mill. "Having competed as a company for the World Porridge Championship in Scotland for a number of years now, I really think Laurie has a strong chance of coming home with this year's title."
The prestigious Golden Spurtle competition is held every year in Carrbridge Iverness Shire in Northern Scotland (a spurtle is a traditional Scottish cooking tool dating back to the 15th century that is used to prevent porridge from becoming lumpy). Bob's Red Mill first competed in the championship in 2009, becoming the first American representatives to do so. That year, the company won the world championship and the coveted Golden Spurtle.
"We already can't wait to return to the Golden Spurtle and to introduce the Scots to Laurie and her taste of Italy," said Matthew Cox, the 2009 World Porridge Making Champion and marketing director at Bob's Red Mill. "Laurie's dish is truly unique, and we expect it to raise more than a few eyebrows in Scotland."
For additional information, please see www.sparforthespurtle.com and www.bobsredmill.com

About Bob's Red Mill
Bob's Red Mill Natural Foods, a distinctive stone-grinding miller of whole grains, was founded in 1978 with the mission of moving people back to the basics with healthy whole grains, high-fiber and complex carbohydrates. Bob's Red Mill, an employee-owned company, offers a diverse line of more than 400 all natural, organic and gluten-free flours, cereals, meals and mixes for pancakes, breads and soups that are available throughout the U.S. and the world. With its dedicated gluten-free manufacturing facility, strict organic protocols and dedication to meeting the highest food safety standards in the country, the company has obtained its HACCP certification and is a leader in providing safe and delicious natural, organic and gluten-free products.