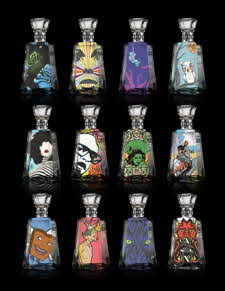 1800 Tequila Showcases
Up-and-Coming Artists On Bottles In Limited Edition Series
12 Limited Edition Bottle Designs Include Shepard Fairey's Studio Number One Artwork
Video of Winning Designs
October 7, 2009 – Proximo Spirits, Inc. and 1800® Tequila are thrilled to announce today the release of the second annual collection of limited-edition Essential Artists bottles. Introducing 12 new bottles designed by up-and-coming artists from New York to Hawaii, the 1800 Tequila Essential Artists series celebrates a dynamic range of original artwork on a unique and unexpected medium – bottles of 100% Agave Silver Tequila! Showcasing eleven designs gathered from over 15,000 online submissions, selected by 1800 Tequila, and one special edition "celebrity artist" bottle, this new line is a vibrant example of the undiscovered, yet soon-to-be-recognized talent residing across the country.
The first installation of the series proved to be a compelling initiative, attracting attention from a wide-range of both world-renowned and unknown artists. This year, in addition to the eclectic variety of 11 user-generated designs, 1800 Tequila is excited to feature a special-edition bottle by Studio Number One, a group of rising star designers whose work is now being recognized as 'essential' in the art world.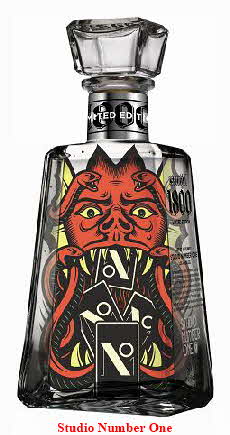 Founded in 2003 by artist Shepard Fairey (who gained global notoriety this year for his Obama "Hope" design), Studio Number One has built a reputation as one of today's most influential creative agencies in the country. Describing themselves as a "firm where art and design bridge the gap between culture and enterprise," Studio Number One reflects the mission of the 1800 Tequila Essential Artists series.

"It's a pleasure to be involved with something that puts art in more people's hands, and to work with a brand like 1800 Tequila that supports and promotes artists," said Amanda Fairey, Chief Operating Officer for Studio Number One.
"We wanted to create something that's as much fun to enjoy on the shelf as it is off the shelf. It's a design that captures the wild side of tequila, but tames it with a dose of humor and a sense of adventure," added Florencio Zavala, Associate Creative Director for Studio Number One.

In addition to Studio Number One, eleven artists nationwide contributed work to create the series of 12 bottles. These artists include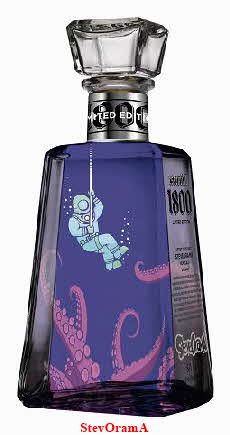 StevOramA (Honolulu, HI), the $10,000 Grand Prize Winner whose design has been given a starring role in the series, as well as Ian McGillivray (Brooklyn, NY), Nickelyn Reames (Manteca, CA), danyol (San Francisco, CA), Leyland "Lee" DeVito (Detroit, MI), Danielle Salinas (Bloomfield, NJ), Chad Shore (Atlanta, GA), Mark Sweeney (San Francisco, CA), Branden Tintiangco (San Diego, CA), Chuck Trunks (Los Angeles, CA), and Michelle Villasenor (Atlanta, GA).
"We're excited to offer another round of Essential Artists bottles, as we received an overwhelmingly positive response to the first campaign," said Elwyn Gladstone, VP of Marketing for Proximo. "Emerging artists can struggle for years before seeing their work recognized on a national scale, but the creative genius behind the submissions and the incredible demand from consumers has allowed us to expand this program and feature 11 more artists, on our way to showcasing 1,800 inspired submissions."

Only a limited number of bottles have been produced, making for an attractive collector's item and lively addition to any bar. To find the bottles, which retail for $24.99 each, consumers can enter their zip codes into the "Liquor Locator" on 1800Tequila.com to find the series in their area. In hopes of encouraging other artists to make their dreams a reality, 1800 Tequila plans to re-launch the contest at the end of this year, inviting artists to submit their own bottle designs for a chance at inclusion in the next series.
About 1800® Tequila
1800® Tequila is the United States' best selling super-premium tequila, renowned for being expertly aged and consistently smooth. Named after the year it was created, 1800® Tequila is pure, 100% blue agave tequila grown on family-owned ranches and bottled in Jalisco, Mexico. Each bottle of 1800® Tequila is double-distilled and matured in French and American oak barrels for superior drinkability. 1800® Tequila is recognized for its iconic packaging which includes a stopper that doubles as a shot glass. The complete 1800® Tequila portfolio includes Select Silver, the first 100-proof Silver tequila, Silver, Reposado, Añejo, and 1800® Colección, an extra-añejo tequila, that is released annually in highly limited quantities. 1800® Tequila is available nationwide at most exclusive bars and retailers.

About Proximo Spirits, Inc.
Proximo Spirits, Inc. is a family-owned company based in New York, NY and is a leading producer, importer and marketer of prized spirits in the United States. As one of the fastest growing spirits distributors in the US, Proximo was formed in 2007 and offers five key brands, including Three Olives Vodka, 1800® Tequila, Gran Centenario Tequila®, Maestro® Dobel Diamond™ Reposado Tequila®, and the exquisite Ron Matusalem® Rum.