Baked Apple Cannoli with Vanilla Cream Sauce
October Winner - Desserts
Athens' "Make it Fabulous with Fillo" Recipe Contest
Baked Apple Cannoli with Vanilla Cream Sauce Recipe
These sweet, flaky bites combine the comfort of apple pie with the convenience of a petite dessert. The decadent sauce adds a rich flavor to a pastry that will melt in your mouth!
Prep Time: 30-60 minutes
Serves 7 or more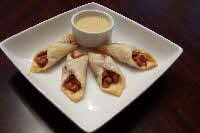 Ingredients
Baked Apple Cannoli:
~ 2 Golden Delicious apples
~ 1 Granny Smith apple
~ 1 Fuji apple
~ 2 Tbsp. lemon juice
~ ½ cup light brown sugar
~ 2 tsp. cinnamon
~ ½ tsp. salt
~ 6 Tbsp. butter
~ 20 sheets Athens Phyllo Dough, thawed
~ Melted butter for brushing

Vanilla Cream Sauce:
~ 2 cups half and half
~ 2 tsp. vanilla
~ ½ cup sugar
~ ½ cup light brown sugar
~ 4 Tbsp. butter

Instructions
Peel, core, and dice the apples. In a large bowl, combine the lemon juice, brown sugar, cinnamon, and salt. Add the apples and toss to coat. In a large skillet over medium-high heat, melt the butter and add the apples. Cook approximately 10-12 minutes, stirring occasionally, until apples begin to soften. Remove from the heat and cool completely.

Preheat oven to 350 degrees.

Unroll Phyllo Dough and brush one sheet with melted butter. Top with a second sheet and brush with melted butter. Repeat until five sheets have been stacked and brushed with melted butter.

Carefully cut the stack in half across the width, then cut the two halves once more. Make two evenly-spaced cuts across the length of the stack to create a 4 square by 3 square rectangle for a total of 12 squares. Top each square with one Tablespoon of the cooled apples, spreading slightly in a diagonal from corner to corner.

Fold opposite corners over the apples to form a tube, pressing gently to seal the top. Repeat layering and filling process with remaining Phyllo sheets and apples.

Place pastries two inches apart on ungreased cookie sheets. Bake for 12-14 minutes or until pastry is flaky and golden.

Remove from sheets to cool, serve with Vanilla Cream Sauce for dipping.

To make Vanilla Cream Sauce:
Combine all ingredients in a medium saucepan. Bring to a boil, cook and stir for two minutes or until sauce begins to thicken. Remove from heat. Serve immediately with Baked Apple Cannoli. Refrigerate leftovers.