THE OTHER MEATBALLS AND SPAGHETTI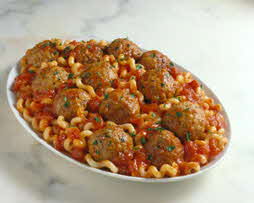 Serves 6
• 1 pound ground pork
• 4 tablespoons dry bread crumbs
• 1 egg
• 1 tablespoon finely minced onion
• 1/4 teaspoon salt
• Dash hot pepper sauce
• 1 28-ounce jar marinara sauce
• 12 ounces dry spaghetti, cooked & drained*


Cooking Directions
Mix together pork, bread crumbs, egg, onion and seasonings.

Shape meat mixture into 3/4-inch diameter balls.

Brown meatballs in large skillet over medium-high heat

Remove from pan.

Heat marinara sauce in same skillet, add meatballs back to skillet.

Cover and simmer for 10-12 minutes.

Serve over hot spaghetti (*or other pasta).

Serving Suggestions
Younger chefs can help mix meatball mixture by hand and shape into meatballs. Be sure to follow kitchen safety rules with children helping. Serve with garlic bread and leafy green salad.
Nutrition Facts
Calories 398 calories; Protein 25 grams; Fat 8 grams; Sodium 725 milligrams; Cholesterol 74 milligrams; Saturated Fat 2 grams; Carbohydrates 54 grams; Fiber 5 grams
Recipe and photo courtesy of National Pork Board.
For more information about The Other White Meat, visit TheOtherWhiteMeat.com