HEARTY SPAGHETTI WITH PORK
Serves 6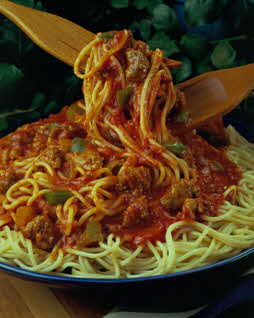 • 3 slices bacon
• 3/4 pounds ground pork
• 3/4 pound bulk pork sausage
• 1 large onion, coarsely chopped
• 1 green bell pepper, seeded and chopped
• 2 cloves garlic, minced
• 1 cup dry red wine
• 3 14 1/2-oz. cans Italian-style tomatoes, crushed
• 1 6-oz. can tomato paste
• 2 teaspoon dried oregano, crushed
• 1 teaspoon brown sugar
• 1/2 teaspoon dried basil, crushed
• 1/2 teaspoon dried thyme
• 2 bay leaves
• 12 ounces spaghetti, cooked and drained


Cooking Directions
In a large skillet cook bacon until crisp. Drain bacon, reserving drippings in skillet. Crumble bacon and set aside.

In reserved drippings cook pork, sausage, onion, green pepper and garlic over medium-high heat until meat is browned and vegetables are tender, stirring occasionally. Drain well.

Add wine; bring to boiling; lower heat and simmer for 10 minutes or until liquid is absorbed, stirring occasionally.

Stir in the bacon, undrained tomatoes, tomato paste, oregano, brown sugar, basil, thyme and bay leaves.

Bring to boiling. Reduce heat and simmer, uncovered, for 1 hour or until desired consistency.

Remove bay leaves.

Serve with hot cooked spaghetti.

Serving Suggestions
Pork is the meat of choice in a classic simmered Bolognese sauce. Try this simple formula—it will become a favorite. Extra sauce freezes nicely.
Nutrition Facts
Calories 540 calories; Protein 29 grams; Fat 27 grams; Sodium 1150 milligrams; Cholesterol 85 milligrams; Saturated Fat 10 grams; Carbohydrates 39 grams
Recipe and photo courtesy of National Pork Board.
For more information about The Other White Meat, visit TheOtherWhiteMeat.com