CHEESY POTATO SKINS WITH SUN-DRIED TOMATOES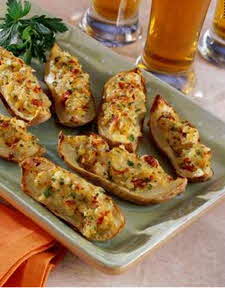 Here's a new take on an old classic. Fontina and Mozzarella stand in for cheddar, and sun-dried tomatoes and parsley add a fresh touch. Perfect pick up food for your next party.
Yield: 16 stuffed potato skins.

Ingredients
• 4 medium russet potatoes (about 1 1/2 pounds)
• 1/4 cup fat free sour cream
• 2 ounces shredded Parmesan cheese
• 2 ounces shredded Mozzarella cheese
• 1/3 cup finely chopped sun-dried tomatoes
• 1/4 cup sliced green onion tops
• 2 tablespoons chopped fresh parsley
• Pepper to taste

Directions
1. Preheat oven to 375 degrees.

2. Bake potatoes 50 minutes, or until tender. Let cool. Cut each potato in half. With a spoon, scoop out pulp leaving 1/4-inch of potato in each half. Cut each half in half again to form quarters. Season with salt and pepper. Bake potato quarters for 15 minutes. (This will crisp them up so that they can be picked up easily.)

3. Mash 1 cup potato pulp with a potato masher (save remaining pulp for a later use). Stir in the sour cream, cheeses, tomatoes, green onions and parsley. Mixture will be sticky and hold together. With your hands, divide the mixture evenly between the potato skins, pressing the mixture into the skins. Sprinkle with fresh ground black pepper and bake for 15 minutes. Serve warm.

Nutrients per serving: 114 calories, 4 g protein, 17 g carbohydrate, 2 g total fat, 7 mg cholesterol, 333 mg sodium, 3 g fiber, 8 mg vitamin C, 244 mg potassium.

Wisconsin Potato & Vegetable Growers Association
www.wisconsinpotatoes.com
Recipe provided by the United States Potato Board www.healthypotato.com